The Class of 2019
Experience the Washington, DC Internship Program Through the Eyes of Our Newest Class
Melissa Renee Charbonneau
University of Michigan Dearborn, Southeast Michigan Region
Melissa Charbonneau is a sophomore student at the University of Michigan Dearborn. She is majoring in Behavioral and Biological Sciences on the Pre-Medicine track and she also plays collegiate softball at her university. Melissa is from Macomb, Michigan where she attended Dakota High School. The American Red Cross Leadership program is an exciting opportunity that she is honored to be a part of. She is a team player and loves giving back to her community, which is a huge reason why Melissa decided to apply for this opportunity. She feels the experiences and skills she will acquire throughout the program will be invaluable! Melissa is passionate about the effort she will put forth into this program.
Adia Dalila Vaughn
Ottawa University, Central Plains Region
Adia Vaughn is a sophomore that goes to Ottawa University in Ottawa, Kansas. She is from Mesquite, Texas and her parents are Ronald and Velescher Vaughn. She is majoring in Biology and runs track and field for the Braves. As a freshman, Vaughn qualified for Indoor Nationals in the 60-meter dash and qualified for Outdoor Nationals in the 200-meter dash and the 100-meter dash. She is the KCAC champion in the 100 meters and holds the school records for the 400 and 200.
Rachel Marie Burgess
Indiana University East, Indiana-Ohio Region
Rachel is originally from Fairfield, Ohio but currently lives in Richmond, Indiana for school. She plays soccer at Indiana University East and is majoring in Biochemistry with hopes to be an orthopedic surgeon. Rachel enjoys working with special needs children, and in the last year or two she's grown extremely close to Jesus. Other goals she has set for herself include working in a private practice, along with helping as many people as she can through her profession and ministry.  
Juan David Jaramillo
Lawrence Technological University, Southeast Michigan Region
Juan is a biomedical engineering student and men's soccer player at Lawrence Technological University in Southfield, Michigan. He was born in Bogota, Colombia and raised in Windsor, Ontario, Canada. Growing up in a Colombian household, speaking Spanish and English, he learned to work hard while showing humility in everything he does. He has learned several important values thanks to motivation from His father, Ivan, his mother, Luisa, and his older sister, Maria.  Juan has enjoyed studying and exploring various science and math courses throughout grade school and high school leading into college. Outside of school, his main hobbies have included playing soccer, running, and playing video games, especially with his friends. Going into college, Juan felt excited and he continues to look forward to applying himself in the challenging yet rewarding field of biomedical engineering to see how he can contribute to the growing demand of enhanced health applications.
Wyatt Shane Bell
Tabor College, Central Plains Region
Wyatt Bell is a 2017 graduate from Cimarron High School and is currently a sophomore at Tabor College. Wyatt is currently studying to receive a Bachelor's Degree in both Biomedicine and Psychology, with the dream to continue his education at The University of Kansas Medical School. He aspires to become either an orthopedic surgeon or a general surgeon. While being a full-time student at Tabor College, Wyatt is also a member of the Tabor Bluejay football team, a tutor for the Biology and Chemistry department, a Presidential Leadership Scholar, and a member of the Science Club. He is an active volunteer at the Hillsboro Community Hospital in Hillsboro, Kansas and has completed internships at North Kansas City Hospital and Marian Regional Medical Center in Santa Maria, California.
Rodrigo Giraldi Horta de Lima
Park University, Missouri Illinois Region
Rodrigo Lima was born in Campinas, Brazil, in 1998. He is currently a student athlete from Park University, where he is part of the men's soccer team and majoring in International Business. Rodrigo feels It is a great honor to be an ambassador and to represent the American Red Cross, being able to help and chang people's lives. He is excited to organize the Red Cross blood drive and to show people the importance of donating blood.
Melissa Ann Emery
Mount Vernon Nazarene University, Indiana Ohio Region
Melissa (Missy) Emery is from Lebanon, OH and is currently a Sophomore at Mount Vernon Nazarene University majoring in Business Management and Public Relations. She currently competes for the Varsity Soccer and Track and Field teams playing center defender and running sprints. When not studying or playing sports Missy enjoys reading, watching The Crown, volunteering with her sports teams and raising and showing dairy goats with her Mom.
Marielis George
La Sierra University, Southern California Region
Marielis George is currently a sophomore attending La Sierra University. She is majoring in Bio-Health Science with an aspiration in becoming an orthopedic surgeon. When she's not studying, Marielis enjoys playing Softball or learning new things. After graduating from La Sierra University, her goal is to return home and attend Valegos College of Physicians and Surgeons.
Nyla Nicole Greer
Madonna University, Southeast Michigan Region
Nyla Greer is currently a sophomore at Madonna University studying Early Childhood Education and Comprehensive Elementary Education. At Madonna University she is involved in numerous activities around campus including Student Ambassadors, Student-Athlete Advisory Committee, and Volleyball. Her dream is to become a third-grade teacher, then further her education to possibly become a principal or superintendent. Before Madonna University, Nyla attended West Bloomfield High School where she also played volleyball and stayed actively involved in the Ross Initiative in Sports for Equality (RISE), a nonprofit organization that is aimed at improving race relations and driving social progress through athletics. Her main goal in life is to spread positive energy and be a helping hand to those in need. Nyla feels she is able to do this through different organizations, including the American Red Cross.
Brianna Mary Heaviside
Marymount California University, Southern California Region
Brianna Heaviside is 20 years old and from Ontario, CA. Brianna attended Pomona Catholic High School in Pomona, CA, where she served as Senior Class President and captain of the softball team for 3 years and captain of the basketball team her senior year. She played softball for all 4 years of high school and was a starting player since her freshman year and received multiple First and Second Team All- League awards as well as First Team All- League in basketball. Brianna currently attends Marymount California University as a sophomore, where she plays softball as a middle infielder. At Marymount, she is studying to receive a Bachelor's of Science in Biology and has maintained a 3.4 GPA and was placed on the Dean's List for Spring of 2018. After obtaining her degree at Marymount, Brianna plans to attend medical school to practice in family medicine. She is honored and excited to work with the American Red Cross and hopes to bring good to the world by helping others.
Ali Suzanne Russell
Freed Hardeman University, Tennessee Valley Region
Ali Ann Russell is from the beautiful state of Tennessee.  She is a Biology major with the intentions of going to medical school after she graduates college. Working alongside the American Red Cross is an incredible honor, and Ali is excited to see what she can offer this renowned organization and see where this once in a lifetime opportunity will lead her.
Stefanie Carballo
Culver-Stockton College, Missouri Illinois Region
Stefanie Carballo was born and raised in Keller, Texas. She went to high school at Keller Central High School. Stefanie is currently a sophomore, majoring in Nursing at Culver- Stockton College. She plays on the women's soccer team and is also part of the Greek life community. Stefanie has been playing soccer since she was six years old and hasn't stopped since. She is very grateful for this opportunity!
Henrietta Ann McDonald
Saint Xavier University, Great Lakes Region
Henrietta McDonald wishes to give plenty of thanks to everyone who supported her. She feels it is a great honor to achieve this role and implement her time to make a small community a better place. Henrietta feels that this program will be very impactful and will permit more exposure to her academic career.
Blog - Day 1 by Nyla Greer
Hello Everyone!
My name is Nyla Greer I am a sophomore volleyball player currently attending Madonna University. At Madonna, I am majoring in Elementary Education with hopes to become a 3rd grade teacher and eventually a principal or superintendent. I am so happy that I was chosen to be a part of such an amazing group of student-athletes through the Red Cross Collegiate Program Class of 2019.It looks like it is going to be a VERY memorable two weeks together!
So, let's start off with the travel day; the day we all had been anticipating for months. I rode with two fellow Michiganders, Juan, and Melissa. We met at our gate Sunday morning a few hours before our flight and we began to talk to one another and we realized we knew a lot of the same people that went to each of our schools. The first flight was a little rocky, but we landed safely in Charlotte, NC. Not even an hour later we were already boarding another plane, this one to Washington, D.C.! Our plane landed in D.C. and we were able to meet up with Stefanie who flew in from Texas. Together we went to baggage claim where we were able to successfully grab our bags and head to the Metro. At this point we were in pure tourist mode and none of us had any real experience with loading money onto a Metro card, so we asked the security guards for help. The nice men helped us and before we knew it, our train came, we boarded, and then we were off to George Washington University!
When we arrived at the dorms, we were greeted with a warm welcome from Hanna, Megan, Jen, and Randon. Their demeanor was so calm and exciting. It took the nerves right out of me. We were able to come right upstairs to meet everyone, unpack, and settle in before grabbing dinner and meeting to discuss what to expect on Monday morning.
Now, to Monday morning. The excitement was real at this point. Seeing everyone put on their best outfits for the first day in the office was more than thrilling. First we stopped at  Starbucks, then we were on our way to the American Red Cross Headquarters. Walking into the American Red Cross Headquarters was an indescribable feeling; it felt like success, empowerment, it just felt right. We sat down and were introduced to the amicable Brian Hamil, who gave us a brief background on the American Red Cross and the role he plays in the organization as the National Chair of Biomedical Services. Our next speaker was Greta Gustafson, Media Relations Specialist for the American Red Cross. We learned that her role is to share the story of the American Red Cross with various media platforms at the national level, as well as alleviate any potential reputational risks towards the organization. During her presentation she also discussed the mission of the American Red Cross and explained that the organization runs on the  four "R's" which include: Reach, Revenue, Reputation, and Relationships. These four "R's" are things that I believe leaders can incorporate into our daily lives. She also shared the important of keeping our reputation wholesome and positive. Our next speaker was Anna Maria Larsen, who just might be the sweetest lady I have ever met. Her powerful energy filled the room as soon as she walked in. Anna Maria's topic focused on character and developing character through self-awareness, self-discipline, and self-reflection. Through all these ideas of the "self", the end goal is to understand and discover one's true self. Anna Maria made sure to make us aware that character development is never ending and that our character will constantly be built through our different experiences in life. The Red Cross Collegiate Leadership Program is a great avenue to continue building character and try to live in a positive way to continue shaping ourselves into better leaders with respect to our sports, universities, and personal lives. Today I learned the importance of working to discover my personal purpose. Sometimes it might not seem clear, but as we walk through the highs and lows of life we continue to learn more about ourselves and why we are on this Earth.
After leaving the office we were able to change into comfortable clothes to explore the city. We ate dinner at &pizza which was some of the best pizza I have ever had. After dinner we walked the busy streets of Washington visiting several monuments along the National Mall. My favorite monument today was the Lincoln Memorial. This was by far the busiest monument we visited today. Rachel and I were even able to partake in a little fun by running up the stairs to the famous Rocky theme song! Overall, today was a great way to kick-start the program and I can tell these two weeks are going to be very impactful in our lives.  
Blog - Day 2 by Ali Ann Russell
Hello all!
My name is Ali Ann Russell and I am a junior, majoring in Biology and minoring in Chemistry and Spanish from Freed-Hardeman University, where I am on the tennis team. Day two of the Red Cross Collegiate Leadership Program began with bright eyes and eager minds. Especially after our new competition — "girls versus boys,who can get ready first"? The score is currently three to one with the girls winning. Surprising, right? And, it is only day two; so let the games begin. 
Chris Hrouda kicked off our morning with an intriguing and engaging discussion. He traveled from Eastern Tennessee to join us, bringing his southern ease and friendliness with him. One of his salient points during his time with us was that although we are athletes, we will most likely not going to become professional. However, we are still to hold the same level of commitment to our teams that professionals do. With all the group's attention, he tied in leadership advice by remarking that most of his current leadership skills came from taking uncomfortable job positions. After a few minutes of discussion, his closing advice was, "If you are not nervous about what you are doing, then you are either too confident or you are not stretching yourself enough."
Our first book discussion, "Daring Destination," was led by Randon McNeil, one of our mentors. The focus was on chapter two of Dare to Serve: How to Drive Superior Results by Serving Others. Randon opened the chapter discussion with "People do not read plaques, people read people." He asked if we knew the difference between ambition and aspiration; the room got silent, and that was response enough. Ambition is the desire for fame and power for an individual, while aspiration is the shared desire to achieve something great for an organization. He talked about how we should strive to bring our true self to work. An example of this is learning about different employees' strengths and weaknesses and then placing them in a work position that compliments their skills. Following this idea, we discussed the goals we had for our sports teams. We then talked about what goals we wanted to set for our blood drives. After brainstorming, we discussed the steps we would take in designing our own blood drives and putting those ideas into motion. We called these our 'vision statements.' 
Another one of our mentors, Megan Mosiniak, presented on the chapter three of our book, "Why Do We Do This Work?" She talked about how our job is not just about meeting our goals, it is about upholding our personal and career reputations, as well as creating a sustainable legacy. She stated that purpose is just a word until it is put into action. What if you do not have a purpose? Everyone has a purpose. If you do not think you do, look back at your life and at the significant events that have shaped you as a person and as a leader. If you have not found your purpose yet, do not stress over it. Everyone discovers their purpose at a different time and in a different way. Megan then gave each of us a sheet of paper with the image of a sweet corn plant. There were four text boxes that emerged from the roots, stalk, leaves, and corn. She prompted us to think about a corn stalk. The roots grow first, then the stalk, then stem, leaves, and finally, the corn (reward). We are very much the same as people, but whether you have found your purpose or not, you should still give purpose and meaning to the things you do. Because "No one ever thanked a plaque. A plaque never inspired anyone or offered someone a helping hand. Plaques do not do that. People do."
Our next encounter was with one of the most humble, genuine, and inspirational woman I have ever had the pleasure of meeting. And I was only in the room with her for an hour. Can you imagine getting to work alongside of her?! Enter Gail McGovern, the President and CEO of the American Red Cross. I think I speak for every one of my colleagues when I say that it was an absolute honor to meet her. Hard at work since the young age of 14, she was vigorously determined to move her way up the career lattice. Notice I did not say ladder. This is because in reality it is more like a lattice than a ladder. You do not just go straight up from one promotion to the next. You start out at a job, and then move to jobs that may be lateral to the one you held, hence the side-to-side lattice movement. Sometimes you have to move over before you can move up. She also gave us some very valuable life lessons. One being that your colleagues are your teammates, never your adversaries. When challenging situations arise with employees, employers, or colleagues, ask yourself "How can I help my colleagues?". More often than not, employees resort to arguing. When asked what she thought the legacy of the American Red Cross was, she stated that it was, "…to give each other the love we represent to others." Passion and love flowed out of her as she talked of her challenges, successes, and her place in the Red Cross. Her role as President and CEO is an impossible job done by a make-it-possible woman.
Our final speaker gave the most interactive and engaging presentations yet.
Edna Cruz presented "True Colors," a three-hour session mandatory for every incoming Red Cross employee. The session consisted of two personality tests and a team building exercise. The personality tests allowed us to better understand ourselves, see how people viewed us, and learn how to present ourselves in the way we wanted to be perceived. The team building exercise was the most challenging by far. It involved three groups trying to communicate to one another in three completely different ways. Once the exercise was over, Edna told us that it was to show us how easily problems can arise from miscommunication or a lack of communication. All these activities combined allowed us to gain different perspectives in self-awareness and communication.
With the workday over, it was time to hit the town. If anyone saw 13 student athletes running like madmen through the streets of D.C., it was us, and we are not sorry. It was all in the name of a scavenger hunt. We were given eight different locations and a different task at each location, so we laced up our running shoes got to business. We split up into three groups, all determined to win. Being on the winning side of victory is enough, but throw in FREE ice cream, compliments of Brian Hamil (is he not the greatest???) and it is game on. Not to brag or anything but MY TEAM WON. Yes, we dominated. Yes, the ice cream was worth every sweaty moment. But the memories made were worth more than anything. We laughed, sweated, and made another memory that will last a lifetime. 
From listening to inspirational speakers to taking sweaty pictures with strangers in front of the White House, I feel like I am growing as a person and as a leader every single day. Every experience I have had here has challenged me so far. Our speakers have challenged my mind and my perspective. The scavenger hunt challenged both my mental and physical determination. I am learning skills that will make me a better leader. I am learning how to be a better employee, athlete, colleague, and friend. Most importantly, I am learning how to be a better version of myself.
It is only day two of this program, and I already cannot say thank you enough for being given this once in a lifetime opportunity. I cannot wait to see where this program takes my colleagues and I, and I am so excited to see how we grow. 
Blog - Day 3 by Henrietta McDonald
Hi all!
My name is Henrietta McDonald and I am from Oak Forest, Illinois. I will be a junior at Saint Xavier University in Chicago and am majoring in Nursing and minoring in Gerontology and Psychology. Currently, I am the captain of the Paw Prints Dance Team. Being a part of the dance team has been an amazing experience to help build my character and leadership skills. I am involved in several activities and academic groups on campus including: the Student Nurses Association, Cougars LEAD, National Society of Collegiate Scholars. On top of my involvement, I also work as a Student Ambassador and Tour Guide on campus. I am honored to be one of 13 amazing people here to represent the 2019 Red Cross Collegiate Leadership Program!
To start our third day, we all met at the American Red Cross Headquarters to learn about transitioning from the Classroom to the Boardroom, presented by Nathan Groce and the Fundamentals of Blood, presented by Celia Clifford. Both speakers presented incredibly useful information regarding resume structure and fundamental knowledge about statistics and blood drives. I really appreciated Mrs. Clifford mentioning that a single donation can save up to three lives. It is amazing how one person can do so much to help others, especially when blood is needed every two seconds. This motivates me to promote how essential donating blood is for those in need.
After the speakers presented, all 18 of us took the Metro to Nationals Park. Taking that many people on the Metro made me quite anxious, nevertheless;we made it to the ballpark. Little did I know that the Washington Nationals were playing against the Chicago White Sox! It was a perfect day for me because I am a White Sox fan! I was quite shocked by the difference between Nationals Park and Guaranteed Rate Field. The biggest difference was that they do not serve Beggars pizza! Beggars pizza is my go-to food whenever I visit Guaranteed Rate Field. Although, I loved the different food options such as Medium Rare, Shake Shack, Ben's Chili Bowl, Chicken and Fries, and more, I have not seen that many food options at a ballpark before. I am a picky eater so I stuck with eating chicken tenders and fries, they never disappoint!
I really enjoyed being around my mentors and colleagues during the game. I am not used to being around  people who are so intrigued  with baseball. The most entertaining thing is that some of my colleagues were joking with me about the White Sox not scoring. All in all, they made my experience at the ballpark exciting and enjoyable. Even though the White Sox lost I was captivated by the game. Even though the White Sox lost, it was still a win for me to be able to enjoy a game at the ballpark with my friends. After the game we all took the Metro back to our dorms where everyone hung out for the rest of the night. Overall, today was an easy, smooth, and relaxing experience. I truly enjoyed getting to know my colleagues and mentors more. It's hard to believe that we are already midway through week 1! We have had an awesome experience so far and I can't wait to hear from the rest of the speakers they have lined up for us.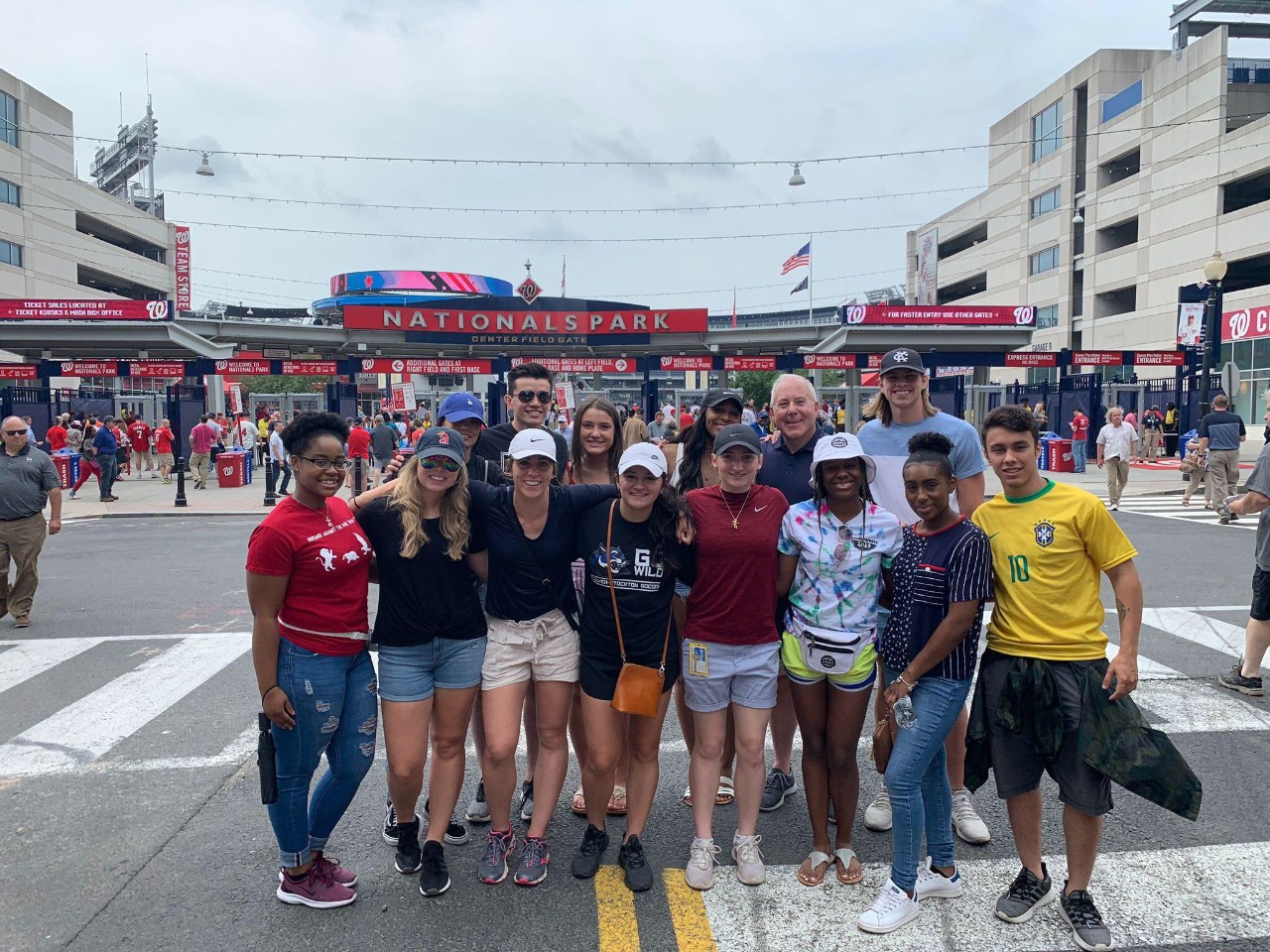 Blog - Day 4 by Melissa Emery
My name is Melissa (Missy) Emery. I am from Lebanon, Ohio. I play soccer and run track at Mount Vernon Nazarene where I am majoring in Management, Marketing and Public Relations.
It was a busy and fun day today here in Washington D.C.! We started the day hearing from our mentor, Hanna, who spoke about blood drive expectations, preparation, and donation guidelines. We learned about the urgent need for blood donations and the guidelines that allow individuals to give. The fact that platelets only have a five-day shelf life was one of the most eye-opening lessons of this presentation and helped me to grasp the urgent need for constant donations.  
Shauan Gilmore, the current Chief of Transformation Officer of the American Red Cross, followed Hanna's presentation and spoke to us about the new Red Cross initiative, One Red Cross as well as his "Do's" and "Don'ts" of leadership. We learned that the Red Cross has recently focused on integrating the Biomedical and Humanitarian resources of the organization to create a single, all-encompassing face to the Red Cross. Doing so has created greater teamwork within the organization and creates an easier, single point of contact for a donor to engage. As a business major, this lesson on organizational image and teamwork was very compelling.
Mr. Gilmore then went into his "Do's" of leadership which included a lot about planning a career through new and differing experiences, seeking out a successful company to surround ourselves with, and finding our own competitive advantages. The "Don'ts" included having a lack of humility and respect, rushing to fail, forgetting to use data, and not using data to back yourself. The biggest take away I got from Mr. Gilmore's leadership advice is to not fear being uncomfortable and taking on new positions, as well as preparing for your own success with planning and surrounding yourself with good company.
 Mr. Gilmore was followed by our mentors, Jen and Megan, who spoke about their own experiences running college blood drives. These two gave us insight as to what worked well for them, what did not, and how the philosophies they used left a legacy. Hearing these two talk about their own experiences we learned many of their valuable tactics, but most of all we learned about the importance of creating relationships, knowing your school, persevering, and learning from our experiences.
Our next guest speaker, Julie Manes, spoke to us about her job of being a lobbyist and advocating for and informing Congress of the Red Cross and its services. Her job differed from the normal lobbyist, because to  promote the Red Cross mission she often asks, "What can we do to help you?" Rather than asking what the Red Cross can get from them. It was so interesting to get Mrs. Manes' perspective on leadership and the value of trust she has in her team and goal to make other people comfortable.  Moreover, we all got a better grasp of what happens within Capitol Hill.
One of the last things we did today at the Red Cross headquarters was review leadership lessons from our mentors Randon and Hanna. These two reviewed chapters from our leadership book that included discussions on legacy and what good leadership looks like. Hanna focused on legacy, and challenged us to think of what characteristics we want to be remembered by  through the lasting programs we set up for success. Randon's presentation taught us about what a good leader looks like through acting out scenarios of how a boss should respect and teach their workers. The need for consistency of leadership character and respect for individuals was really instilled through these discussions.
Once our work was over, the fun really started! The group walked together to the Georgetown waterfront where we ate dinner, explored the shops, and walked around the waterfront. The group was very dedicated to finding which shop had the best cupcake (Sprinkles Cupcakes had the best cupcakes). 
The most fun part of the day came after dark when Randon convinced a group of us to do a scooter monument tour. We scoured the city looking for scooters to drive, with the end result being four of us on scooters and Randon running beside us. Randon was a great sport and got an amazing workout that night! It was great seeing the monuments shining at night and exploring the city with such a fun group of people made it unforgettable.
Overall, it was a great day of learning, exploring, and growing in community with friends. I am so thankful for the amazing speakers and mentors we were able to hear from today, and I am so thankful for the lessons and knowledge the have already instilled in me.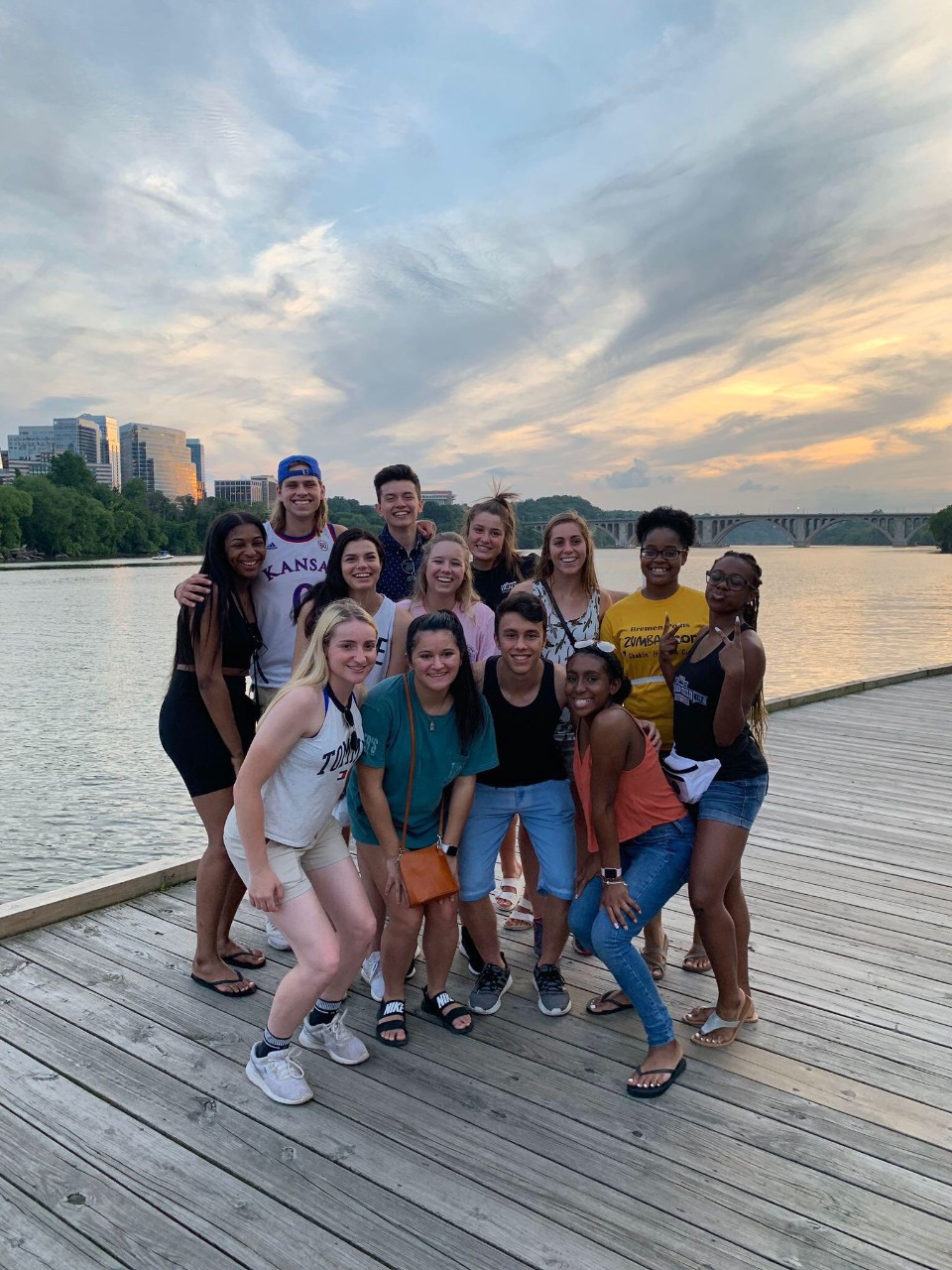 Blog - Day 5 by Melissa Charbonneau
Hello all! My name is Melissa Charbonneau and I just finished my sophomore year at the University of Michigan Dearborn, where I play on the softball team. I am majoring in Behavioral and Biological Sciences with hopes of going to medical school!
Today was filled with excitement and reassurance. We started off our day with Hanna explaining to us how he gained success with his blood drives. Hanna explained his tips and tricks through his acronym C-O-M-P-E-T-E. This stands for Creative advertising and Collaborative effort, Organized, Memorable experience, Practical goals, Exciting, Talk it up, and Expect the unexpected. After, Randon presented on career exploration and critical success factors. Both presentations focused on giving us the tools we need to succeed in our future blood drives as well as in our lives as leaders. Then came the best part of our day, which was our calls with our Account Managers! We were able to talk to our Red Cross Account Managers from our specific regions about the next blood drive dates and everything we need to do to prepare once we get back to campus. My Account Manager was extremely helpful and enthusiastic! We bounced a lot of ideas off of each other and she followed up via email right after to tell me about one of my ideas that she was already setting up! The phone call with her gave me a lot of excitement and insight into how I want to run the blood drives on my campus. After we finished our calls we discussed our experience as a group before breaking off for lunch.
While we ate lunch we listened to Dr. Patricia Brunker who spoke to us about the biomedical aspect of blood and how hemoglobin levels affect blood donation. She shared such valuable information and she lit up the room with her contagious energy! Once our time with Dr. Brunker came to an end, we discussed the leadership article, "14 Tips of Developing Leadership Presence" which lead into our book discussion, "Why I Choose to Serve." During our book discussion, we were able to listen to all of the mentors discuss what they had to go through with the successes and failures not only with their campus blood drives, but with their own life journeys. We wrapped up the day with Larissa Hatch and Gloria Coliton about Red Cross youth engagement and they provided us with information on how we can create our own Red Cross club on our college campuses. Once we debriefed we headed back to the dorms and got changed before Brian treated us to dinner at Tonic, which was delicious!
Overall it was an amazing day and I can't believe how much I've learned since I arrived  here. I am transforming into a better leader and person because of this program. I look forward to this upcoming week and am so thankful for the American Red Cross as well as my school for allowing me to have this opportunity!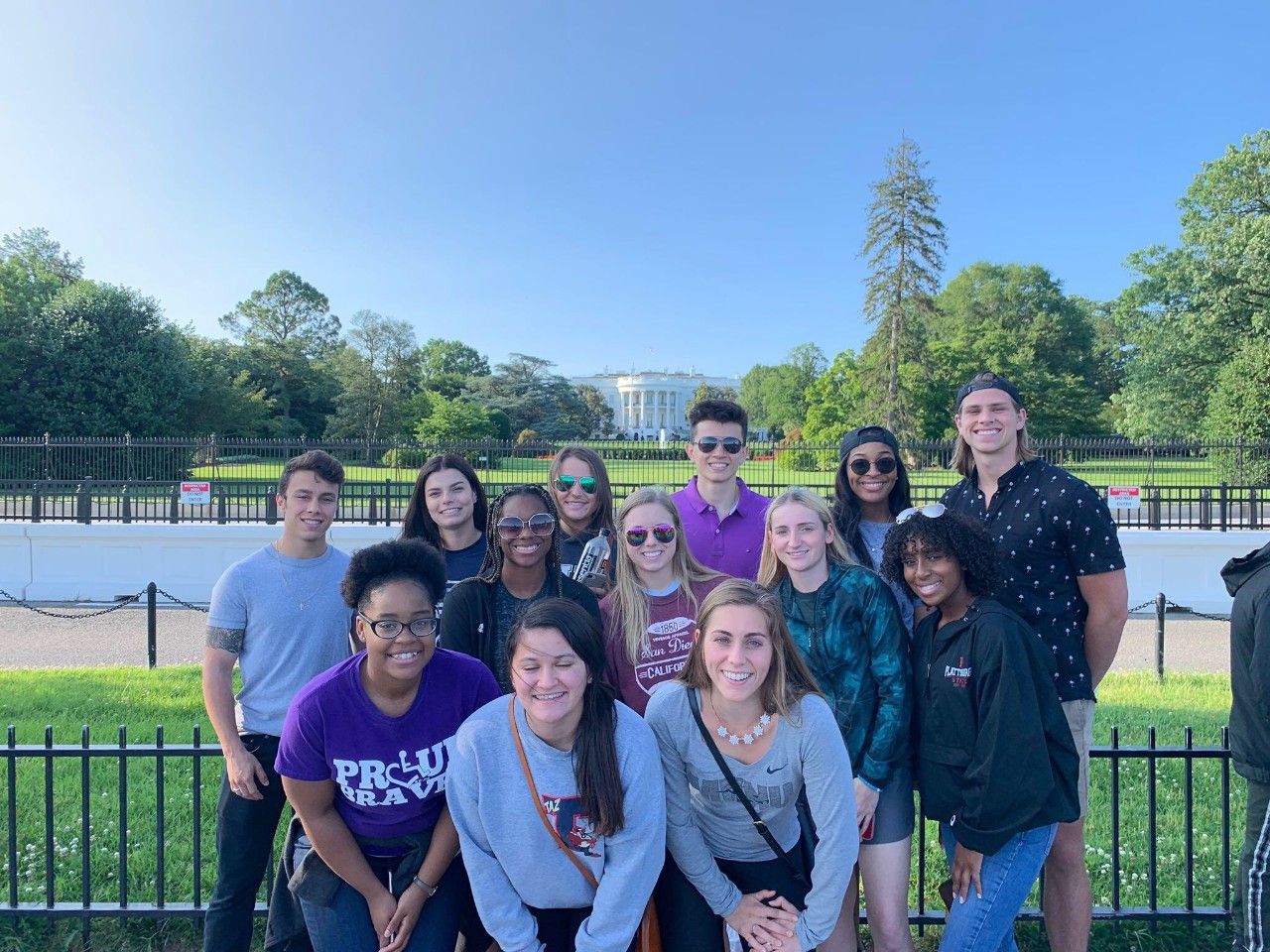 Blog - Day 6 by Rachel Burgess
Hi there! My name is Rachel Burgess and I play soccer at Indiana University East. I'm majoring in biochemistry  with the intention of going to medical school to pursue a career in orthopedics. This first week has included an overflow of information about the mission of the Red Cross, which has given us the tools and perspectives we need to run successful drives back on our respective campus. Each speaker we have had has implored us to know more about each other as well as ourselves. They've done this through their own fun and unique ways such as prompting discussion questions and personal tips from their own experiences. By doing this they have all brought some different perspectives and insights on leadership. While we have enjoyed our time in the office and hearing from all our speakers, we were even more excited for what the weekend had in store for us.
We spent our Saturday touring the city by starting at Union Station. Throughout the tour each person in the group had a slip of paper correlating to a specific landmark and its historical facts, and at each stop we would take turns reading that information. We learned a variety of things ranging from the history of the architecture, events, various memorials, and locations including the Library of Congress, the United States Botanical Gardens, and the National Gallery of Art. While we learned a lot about the abundant history of our nation's capital we gained  more understanding about each others' preferences and interests. To name a few, I learned that instead of going to the air and space museum Melissa would rather nap with me on the stairs in the sun. Then, Wyatt and Rodrigo can last for about two miles before they gasp for air at every cross walk. And, Juan really loves his candid pictures which Mari is considered the excellent at taking! 
This has been an eye-opening experience because I have had the opportunity to connect with my fellow colleagues and learn about their unique ideas that they want to take back to their campuses. Learning about each person this first week has been an honor and I am so grateful for the people who have made this program possible. I am learning how to build a team, communicate in a way so that we all strive towards the same goal and how to lead them successfully. I am learning how to view situations from someone else's perspective while also staying true to my own identity. It has been an extremely reflective experience and I cannot wait to embrace what the next week has to teach me. I am also very excited to bring my ideas home and stay in contact with my new friends that I have made in the program. I know that they are going to host great blood drives at their schools and create a lasting legacy within their communities.
Blog - Day 7 by Brianna Heaviside
Hi everyone!
My name is Brianna Heaviside or Bri for short. I attend Marymount California University in Southern California, where I am on the softball team and I am majoring in Biology. I plan to enter the medical field once I graduate. I am so grateful to my school, family, and the Red Cross, for allowing me to have this opportunity to be a part of the Red Cross Collegiate Leadership Program Class of 2019!
Week one is officially done, and time has flown by so fast! With a total of 13 student athletes and the amazing staff leading us, we have really opened up and learned so much about one another. Today was our "free day" and we were able to do whatever we pleased on our own!
The day started off around 9:30 a.m. where ten of us got dressed and ready for the day. We decided to then head to Wicked Waffle for breakfast where I had a waffle drizzled with Nutella, covered in powdered sugar, and topped with freshly sliced strawberries, which was delicious! The weather became windy and cloudy and it then started to rain. Half of the group made the decision to head back to the dorms at Thurston Hall to catch up on rest, while our half of the group decided to take the Metro to visit the National Archives. Once we arrived at the National Archives we viewed the Declaration of Independence, the Bill of Rights, and the United States Constitution, as well as many other U.S. documents and artifacts. After the National Archives, we visited the National History Museum where we viewed many artifacts such as the Hope Diamond, Egyptian mummies, and the famous T-Rex fossil!
After the National History Museum we headed back to the dorms on the metro to change and get ready for dinner. We ate dinner at Bertucci's Italian Restaurant where we were served a HUGE buffet of food! We started with bread and salad, but then the servers began bringing out course after course of pasta, pizza, and dessert! It was one of the best dinners I think I have ever had and we all definitely walked away with a full stomach! We then retreated to our rooms for the night in preparation for a new and exciting work week for our last week in Washington D.C.!
We are tired but excited for the last week of the program and continue to develop our leadership skills. My favorite part of this trip so far was the True Colors Workshop that we participated in earlier in the week where we all learned about each other's different personalities. I have felt very blessed and grateful to be in D.C. to learn from the best and to take in all the information that I have been receiving. I am eager to go back to my campus and share everything I have learned and apply it in life. I love D.C. and all the amazing people I have met along my journey, but I cannot wait to return to the California weather and see all my family and friends to tell them about my experience!
Blog - Day 8 by Juan Jaramillo
Hello! My name is Juan Jaramillo and I am a Colombian-Canadian biomedical engineering major and soccer player at Lawrence Technological University in Southfield, Michigan. Today, we discovered so much more about one another and rather than repeating a one-line description, we dove in much deeper by sharing lifelong journeys and stories that have shaped us into who we are today.
Today was the beginning of week two at the American Red Cross National Headquarters. We all had a fantastic first week, as well as a refreshing free weekend to explore Washington D.C. Then came Dan Wood, the Executive Director of the National Christian Collegiate Athletic Association who we had dinner with last night. Immediately, I experienced his great energy. The way in which we got to know each other at first was similar to my original description of myself: name, school, sport, et cetera. We truly had no idea that we would greatly surpass this introduction. Dan shared with us his life journey, one filled with so many hills and valleys, doubts, questions, as well as joys and triumphs. From his small-town roots to his nation-wide impact, Dan's story was unique and one we truly relished. Then came our turn to share. Dan told us to tell  our story by answering the question, "How did I get here and what makes me ME?" Each of us looked at each other, stunned that it was our turn to go deeper into who we are. Then, came what was simply the most emotionally impactful hour of this trip. Each of us shared our personal life journey, including who and what has led us to who we are today, and how this story keeps us going. Throughout these stories, we encountered sickness, depression, failures, fear, and death. The room was in awe of the difficulty we have each endured to get to where we are today.However, despite the trials and tribulations we shared, it was clear that each of us grew and flourished from these experiences. As hard as it was to share some of those experiences with the room, Dan and my colleagues made it easy to cope with our tears and to enjoy having this conversation. Throughout that hour we spoke with one another, cried with another, and ultimately grew together.
This monumental conversation, is comparable to some of the attractions we saw over the weekend. Some of these buildings are amazing to just look at as you walked by, but when you take the time to walk INSIDE of these buildings you see so much more. The outside aesthetic is nowhere near as delicate and breath-taking as the beauty of the interior of these structures. Then one starts to think, "Wow, imagine the amount of people needed to have built these wonders, and how much time it must have taken." Similarly, we each sat in the office this morning just like every other work day before,t, however, unlike the other days, we all got to take a walk inside each other's lives. We all got to see the unimaginable wonder beyond the surface of every individual in the room. We also discovered that blood, sweat, and tears are required to build and mold us into the marvelous people we are today. 
Dan transitions into talking about authentic leadership and servant-heartedness. He shared many real-life examples of people who have led and inspired others with their servant hearts. Some of these people included Truett Cathy, the founder of Chick-Fil-A, John Wooden, legendary basketball coach, and Paul Smith, a man who had cerebral palsy and made art from a typewriter (MINDBLOWING). These stories, along with the remainder of Dan's presentation showed us that every single person has a story. To become great leaders and, more importantly, great servant-hearted people, we must embrace our own stories as well as the stories of those around us. Furthermore, Dan taught us to recognize that everybody has a journey, even if we do not know what it is, and that we must show compassion to everyone with the knowledge that their lives are  just as deep as ours.
After lunch, we Skyped a couple unsung heroes of this program, Nichole Cagle and Gayle Guevarra. These two women have worked tirelessly to organize our two weeks in Washington and it was lovely to finally speak with them as a group. Their stories certainly involve incredible unconditional service to people they never get to meet face-to-face.
For the remainder of the afternoon, we were given time to work on emails and our final presentation for the program. Many of us wait anxiously to see and share each other's plans for our blood drives this upcoming year!
During the evening, a group of us went to visit a local gym where we were able to blow off some physical steam after a very emotional day. Later at night, another group of us travelled around the National Mall using the locally available motorized scooters, which is another neat part of the D.C. experience! Again, I felt fortunate to revisit some of D.C.'s beautiful attractions with some of our program's beautiful people. Soaking in these sights never gets old, and both daytime and nighttime explorations have their own unique appeal.
I feel grateful to have the opportunity to donate blood tomorrow, which will be the first time for some of us! However, I feel as though I speak on behalf of the entire group by saying that we feel most grateful for Dan Wood's visit and for his commitment towards our growth.. The lessons he taught us, and learned from one another, will never be forgotten as we move forward into serving our college campuses and local communities. Thank you to everyone who has shared their journey's and stories with us so far this point in the program!
Blog - Day 9 by Wyatt Bell
Hello! My name is Wyatt Bell and I just finished my sophomore year at Tabor College in Hillsboro, Kansas. Cimarron, Kansas is where I call home, which is a very small town in southwest Kansas with a population of around 2,500 people. I currently play tight end for the Tabor Bluejay football team and am actively involved in several other organizations on campus. I am studying pre-medicine with majors in Bio-medical, Biology, and Psychology. I plan to use those majors to get into medical school and aspire to practice medicine in a rural community. I am open-minded about what field of medicine I go into, but I have interests in orthopedic surgery as well as family practice medicine. When I am not dedicating my time to my studies or  bettering myself on the football field, I like to spend my time traveling. I love to immerse myself in different cultures and observe different characteristics of culturally diverse parts of the world.
We are full speed ahead in week two of the Red Cross Collegiate Leadership Program at the American Red Cross headquarters in Washington, D.C. and are continuing to learn how to be the best version of ourselves.
Today, Tuesday June 11th, we started off the morning listening to a presentation regarding professional resume and interview tips, done by one of our very own mentors, Megan Mosiniak. We started by composing an elevator speech about ourselves as a way of networking with someone in a limited amount of time. This speech consists of bits and pieces of information about ourselves, such as our name, what we are studying, our career goals, and skills that we are passionate about. We went on to talk about the do's and don'ts of professional interviews, which was very beneficial for me as I prepare for medical school interviews in July. We also looked at some frequently asked questions and talked about some possible ways to approach those questions. One of the most important things that Megan harped on was following up with our interviewers to help show appreciation and to stand out among the norm.
Later in the day we had the opportunity to call back to campus and let them know the big things that we are working on here in D.C. in order to help promote blood drives on campus. In my case, I called the Tabor College President, my football coach, and one of the people in charge of media for athletics. I had the chance to tell them how I am refining my leadership skills, becoming an advocate for the American Red Cross, what plans I have in store for campus blood drives, and most importantly to make sure that I had their support for these upcoming two years. The calls went amazing and they assured me that I had their full support in any way that I needed. They also made sure they had all the information to post on Tabor's social media platforms to get my Red Cross Leadership story out to the campus and Hillsboro community. 
After lunch we got to listen and pick the brain of our guest speaker, who is also a very influential face for the Red Cross, Brian Boyle. Brian has an incredible story that is unlike anyone I have ever heard. Fifteen years ago he got into a major car accident and ended up in the hospital with his heart on the other side of his body and barely clinging to life. After two months in a medically induced coma, 14 operations, dying on the operating table eight times, 36 blood transfusions, and three years of recovery, Brian's journey was nothing short of a miracle. To make things even more unbelievable, Brian now invests his time in his wife and daughter as well as endurance sports. Believe it or not, he just participated in American Ninja Warrior and was sporting Red Cross gear the whole way. He also told us that he runs ultramarathons, which can consist of over 100 miles of running, taking longer than 30 hours to complete. Due to his life changing car accident, he now gets to meet and make connections with so many different people. One of those people was myself. I had an experience where I was in a diabetic induced coma, so I could relate to his story in a more personal way. I really appreciated Brian talking about struggling mentally in the beginning, but then fighting with every ounce for the people who love you. I found myself doing the same thing when I got sick. My family had a very hard time coping with the idea that I had my whole world turned upside down, but through that experience I see the world through a different lens. I have learned to use what seems like a disadvantage in a much more advantageous way, by relating to people and empathizing with them, just as Brian has. Brian also mentioned that as he sat in his wheelchair, he was thinking of how he could serve the people who gave life back to him, which in turn ultimately led him to the American Red Cross. For me, I had the same thoughts running through my head as I laid in the hospital bed, but I decided that I would use my condition and circumstances as my motivation for pursuing medicine. I have a very competitive spirit, much like Brian, and don't let anything stand in the way of my goals.
To end the day, we finally had the chance to give blood at the headquarters. I had the opportunity to connect in the most amazing way with the phlebotomist who checked me in and did the blood draw. Turns out he was once a medical doctor, more specifically a rheumatologist, in his home country of Iraq. After I told him that I was aspiring to be a physician, he began to dig deeper into his story. When his country was invaded and basically destroyed he began to work for the United States Army as a surgeon. In doing this, he was considered a traitor to his country and found his family to be in imminent danger. He decided to sacrifice many years of medical school and his career in order to bring his two daughters and wife to America, where his family would not have to worry about being kidnapped and/or worse. He now works as a phlebotomist at the American Red Cross headquarters and says he misses medicine every day. From talking to this man for only about an hour has inspired me to continue on my path of medicine and make sure that I am pursuing it for the right reasons. His wisdom and experience provided insight into what I should expect throughout the rest of my schooling, but he also assured me that I would reach my goal and become an amazing physician.
The connection that I made with that man is one of many networking opportunities that the American Red Cross Collegiate Leadership Program has given me and I am very thankful to have been a part of it. I plan to continue to refine my leadership philosophies and skills as well as become an influential advocate for the Red Cross on whatever path life takes me. I will end with a quote that we heard earlier in the week, pertaining to dealing with unexpected circumstances. It goes, "Don't fear the storm, learn to dance in the rain."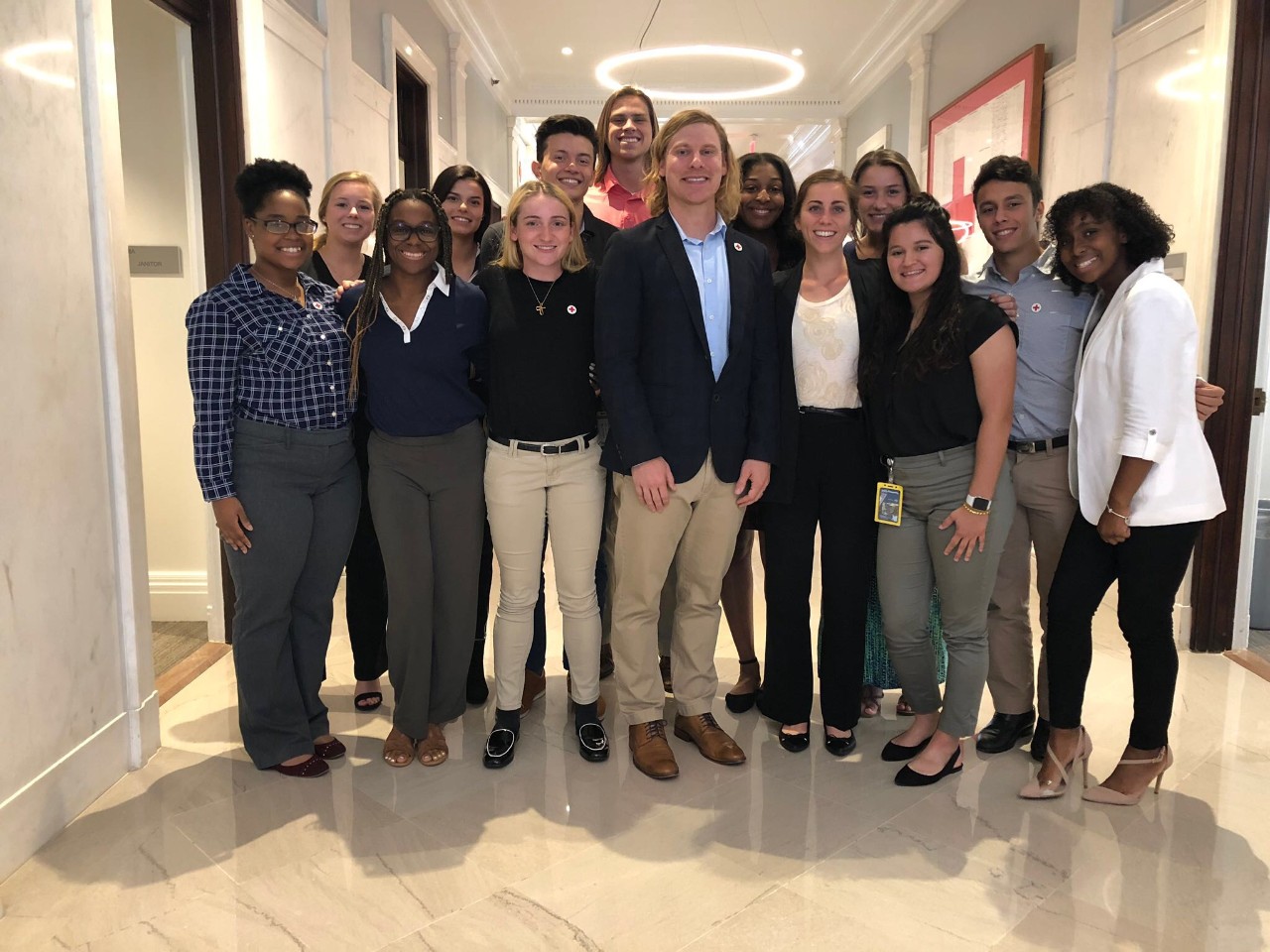 Blog - Day 10 by Rodrigo Lima
Hello! My name is Rodrigo Lima and I was born in Campinas, São Paulo, Brazil. I am a junior at Park University, Parkville, Missouri, and play on their men's soccer team. I am majoring in International Business and I am an international student ambassador for the school. I love to play soccer, travel, have fun with my family and friends, and listen to techno music.

Today we had the opportunity to learn from two great speakers, Kamenna Lee and Tim O'Malley. Kamenna Lee, the Vice President Biomedical Services and Business Marketing, talked about the importance of donating blood. She emphasized the urgency of blood donation because every 2 seconds someone in the United States needs blood. Kamenna gave us  advice on how to run a successful blood drive back on our campuses by creating a strong volunteer team. She emphasised that a strong volunteer team allows the message of the Red Cross to reach a broader audience as well as giving support in the process of organising the blood drive. Kamenna also mentioned that after donating the body needs time to recover and replenish the pint of blood that was given. After someone does a Power Red donation, which is two pints of blood, they have to wait for 112 days before their next donation. Whereas a whole blood donation only has a 56 day waiting period, but only gives one pint of blood. 
Tim O'Malley, an Organizational Development Consultant, conducted a four-hour diversity workshop with us today. The workshop included many activities that challenged us to think about our perception of others and we treat them based on that perception. Some of these activities included a poem, card games and an interactive poster session. The card game split us into three groups where each group had a different set of rules. However, we did not know that there were different rules between the groups and we were not allowed to speak. So when it came time to move the winners to new tables everyone was very confused. This exercise taught us when we go into a new job or team they might play the same game, but could have their own set of rules. He showed us the importance of understanding what rules other people operate by and how to work better with them despite that. Tim then marked five different posters each with a different label from appreciation, acceptance, tolerance, avoidance and repulsion. He then gave us scenarios of how we would treat someone depending on which poster we were at. This demonstrated how we treat others based on our perceptions and feelings toward them. He went on to show how this affects people in a work environment.
After leaving the headquarters, Juan, Wyatt and I went to watch the soccer US Open Cup,  DC United versus Philadelphia Union. We were able to get tickets because Fabinho, the soccer player from Philadelphia Union, gave us 3 free tickets after I contacted him via Instagram. Juan and I are both collegiate soccer players, while Wyatt is a football player, but we all enjoyed the energy of the stadium. The game was super exciting because DC United won 2-1 after scoring a goal in the last minute of overtime. After the game, Fabinho invited us to their team bus to talk to the players. He also gave me a signed t-shirt and a few moments to talk about the game. Afterwards, I had the opportunity to take a picture with the legend Wayne Rooney, an attacking player of DC United.
Between the diversity workshop this morning and the soccer game this evening, I had an amazing day. We only have two more days left in the program and with these amazing people. I am going to miss all the students, mentors, and adventures that have come with my two weeks in Washington, D.C.
Blog - Day 11 by Stefanie Carballo
Hello there! My name is Stefanie Carballo, I am a junior nursing major at Culver-Stockton College in Canton, Missouri. I play soccer and am a member of the Sigma Sigma Sigma Sorority. Things here in Washington, D.C. are slowly starting to come to the end. In just two days we will all be saying goodbye to each other, and maybe shedding a tear or two.

Today started off like every other morning, we got up and changed into our business casual attire. However, today we were getting out of the office to spend the morning touring the Capitol building. All of us were so excited. It was another beautiful building, giving us another opportunity to learn more about our country's rich history. We  walked where all of the past presidents walked, learned  about the significance of different pillars, and statues. Everything we saw has a unique history and place in the building. The artwork had so much detail put into it, as to tell the specific story of its time. My favorite part of the building was the history of all the paintings on the dome. The band that stretched all the way around the higher part of dome displayed major events in our nation's history. Our tour guide told us that it took 80 years and three different painters in order to complete it. In it you can see the switch of artists if you look really carefully, as their style and technique differed from each other.
The next part of the tour we went to the House of Representatives and watched as they voted on different amendments. However, we first had to wait in a long line that got a few us rather hungry! We nearly left because of how long it was taking, but then just as we were about to go, they let us in. No matter our rumbling stomachs, it was awesome to see different congressmen in action! . I think the house was voting but they were voting for what felt like 500 amendments that I lost track. After about 15 mins we left to do my favorite thing … eat!
Today was a lot of fun, and it was nice to get out of routine. I learned that politics and history is more interesting than I thought. I noticed that history repeats itself  and it is our responsibility to not make the same mistakes as those who came before us. I am so honored to have been picked for this program and have learned so much through this experience.. While we are all enjoying our time here, I think each of us are excited to see our families in the next few days!
Blog - Day 12 and 13 by Marielis George
Hey there!
My name is Marielis George and I attend La Sierra University in Riverside, California. Currently, I am majoring in Bio-Health Science in hopes of becoming an Orthopedic Surgeon. Everything comes to an end. On Friday morning, we all woke up with mixed emotions. Mixed emotions because as excited as we were to go home, we didn't want to leave one another. It was time to head to the office. This was the day where the student-athletes took the position of the student mentors. It was our time to shine presenting our strategic plans. Everyone's plan truly showed how much impact these two weeks has had on each and every one of us. We are all truly excited to head back to our campuses and put these plans in motion.
Knowing it would be our last time in the office, we said goodbye to the amazing and genuine Brian Hamil. I believe that anyone who has met him and can truly say that everyone needs a Brian Hamil in their lives. Most of all we decided, to take pictures before we left the Headquarters to ensure that we never forget each other and because.. we are all SUPER cute!   
As per tradition, we woke up today to go see the sunrise at the Lincoln Memorial. 13 walking zombies made their way to the Lincoln Memorial at 5:00 AM to watch the sunrise. Our mentors tried their best to wake us but they needed a little help. As we were walking, I heard some rustling in the garbage cans which had us all on alert. A few blocks later… that rustling was no longer a sound but also a sight. Ratatouille wanted to be part of us and we simply did not like the idea. Let's just say that is probably the fastest dispersal anyone has witnessed. On the bright side, we were all fully awake to see and enjoy the sunrise.
Watching the sunrise, made me contemplate and reflect on these two weeks. Looking at all the colors the sunrise had to offer, reminded me of the colors of the rainbow. Red, so vibrant and so true; a color built of a certain strength that can be found in us. Orange. Enthusiasm and creativity the definition of a color I hope to carry to famous. Yellow being happiness and joy. You see in my life, I strive to be happy the definition of yellow is what RCCLP has provided. Green, a symbolism of growth. The only place we can go from here is forward and it is the only place that I intend to go. Blue, the color of intelligence and in my life, I want to make wise decisions. Decisions that would not only benefit me but serve others. Indigo, so powerful and so dignified. Traits that I hope to hold until the day that I die. Violet, a color of imagination. A world without this is a world not worth living. Living, we have not stopped we only just starred. From now on we will embark on a new journey. Who knew that putting 13 complete strangers together who attend schools in different states would turn out so well. Day-by-day, speaker after speaker, our perspectives kept changing. The person we were at the beginning of the program, is not the same person that has left today.
As I finish writing this blog on my flight back home, remember "Your attitude is your altitude," so shoot for the stars.