The Class of 2016
Look Back on the Experiences of Our Senior Student-Athletes
Brooke Runyon
Indiana University Kokomo
Major/Minor:Secondary Social Studies Education/Studio Art and Psychology
Sport:Cross Country
Blood Region: Indiana-Ohio Blood
Blog - Day 1 by Brooke Runyon
Hello readers and thank you for checking out our blog!
I am honored to share with you the traveling day of the American Red Cross/NAIA Collegiate Leadership Program Class of 2016. My name is Brooke Runyon and I am from Noblesville, Indiana which is 25 minutes north of Indianapolis. I have been running ever since I stole my first cookie from my mom's cookie bowl. Running is truly a passion and I cannot remember a time when running was not a part of my life. I am currently a senior at Indiana University Kokomo where I am studying secondary education social studies and minoring in studio art and psychology. I am a nanny and also work in the advising office on campus. I am involved in cross country where I am team captain and president of our Student Athlete Advisory Committee (SAAC).
Our cross country team just finished our 4th year and have set standards higher and higher each season. I just want to thank my cross country coach, Coach V, for encouraging me to apply for this unique program. He is a great mentor and helps me when I face a challenge in running, school, or life. I think of what he said to me once when I was struggling with an injury. He told me, "Always get better, be true to who you are, and have a servant mentality." Throughout the program I will recollect on what he said and it will stay with me for the rest of my life. The night before the trip I did not sleep at all. Usually I am not anxious before a trip but this time was an exception. I have never experienced an opportunity like the American Red Cross/NAIA program and am so excited to get started tomorrow and meet Brian Hamil. What a great way to kick off the two weeks! I flew out of Indianapolis International around 1pm and made it to Chicago O'Hare 25 minutes before my next flight gate closed. Luckily the flight was delayed 30 minutes so I made it to my gate okay. This blog is about to get interesting because the flight to Washington, D.C. was delayed another 30 minutes due to mechanical issues. Christmas came early because I spotted Reise. We had a great time getting to know each other and I shared my lunch with her which consisted of Sweet Tarts. During another 30 minute delay we spotted Hannah right behind us and enjoyed each other's company. Soon after Reise and I spotted Hannah we saw Bailei.
The four of us got on the plane to only get turned around right before taking off to check if we had enough fuel for our trip to go around a storm. It turns out we did not have enough fuel so we had to sit on the Tarmack for 90 minutes to refuel, get a departure time, and switch out crew members. We finally took off and made it to Ronald Reagan International Airport just after 8pm and arrived to our dorm at 9pm to meet everyone. It was definitely an interesting experience but we were glad to have each other for comfort. The rest of the group arrived earlier in the day. They spent time to unpack and talk with one another. They had dinner at Custom Fuel Pizza, which I heard was fantastic pizza! While they were there secret service men were eating which was cool for the group to see.
After we all got settled in our rooms we had a meeting in Megan, Randon, and Hanna's room. They are our student mentors for the trip and have made the process of coming to Washington, D.C. a breeze and have answered our many questions. Thank you for reading and it is time to rest so we can be energized for tomorrow morning! 
Helen Taylor
Columbia College, South Carolina
Major/Minor:Communications/Applied Computing and Nonprofit Leadership
Sport:Cross Country and Track and Field
Blood Region:South Carolina
Blog - Day 2 by Helen Taylor
Greetings!
My name is Helen Taylor, and I am a junior at Columbia College (an all women's college in South Carolina). I am a communication studies major with minors in nonprofit leadership and applied computing – concentrating in business. When I am not studying, I can be found running distance for the Columbia College Cross Country/Track and Field teams. Go Koalas! I am stoked to have the opportunity to represent the American Red Cross and the National Association of Intercollegiate Athletics (NAIA) in the 2016 Collegiate Leadership Program in Washington D.C. I can already tell that the program will help me step outside of my comfort zone and dive deeper into the field of nonprofit leadership. Day 2 started bright and early at 7AM with a quick run to the White House! Running in DC is definitely different than running in Columbia. There were a lot of crosswalks and times where we had to stop for directions, but it was all in good fun because the sights were beautiful. We reached the White House, and its beauty floored us.
Most of us had never seen it in person, and when we approached it; it gave me chills. It was prettier than any picture I have ever seen. We took lots of pictures and just absorbed the history of the White House. After several minutes of admiration, we decided to run back and get ready for our first day of training! We arrived at the American Red Cross Headquarters and sat down in the conference room with table tents and binders personalized for us. I felt welcomed and excited to be sitting in national headquarters for such an amazing nonprofit organization. The session opened with Mr. Brian L. Hamil who is the National Chair for Biomedical Services for the American Red Cross, and founder of this program. He introduced the concept of being our "authentic selves" and not forcing first impressions. He reminded us that we may face challenges during our lives and endeavors as leaders, but we have to remain humble and learn to rise from our challenges. After Brian's exciting intro, we participated in a few icebreakers and were honored to have Mr. Brian McArthur speak to our group about the lines of service and organization structure of the American Red Cross.
Mr. McArthur gave us a rundown of the history of the American Red Cross and its purpose for others. The American Red Cross helps with more than just blood drives; the Red Cross also helps with assistance to the military, disaster relief, CPR, babysitting training, fires, and vaccinations. Since the Red Cross is known as a reputable charitable organization, it is important for its members to follow a set of core values. The American Red Cross hopes to be compassionate, collaborative, creative, credible, and committed. Mr. McArthur honed in on the importance of remaining credible because if an organization is not credible, individuals would not want to receive help from the Red Cross. Lastly, Mr. McArthur touched based on the importance of creating partnerships with other organizations. One organization cannot do it all, and it is vital for nonprofits to maintain strong relationships with each other, so they can work to achieve common goals. The next speaker we had the privilege to listen to was Mr. Shaun Gilmore, the President of Biomedical Services for the American Red Cross. He dove in more about the blood drive aspect of the American Red Cross.
We went over the process for collecting safe and reliable blood; the process begins by recruiting donors, establishing collection sites, processing the blood, labeling the blood, distributing the blood to hospitals and clinics, and then delivering blood to patients. It is a long process, but the Red Cross wants to ensure its blood is safe and accessible to those who are in need. Mr. Gilmore concluded by outlining the do's and don'ts of leadership. His lessons were insightful, and the "do" I related to was learning how to be open to new assignments and risks. One of his "don'ts" that I related with was that I should not be afraid to ask for help. Mr. Gilmore reminded us that it is okay to ask for clarification because it is better to understand than to be left in confusion. The first day of our training concluded with reflection from the text we were assigned to read How Will You Measure Your Life? By Clayton M. Christensen, James Allworth, and Karen Dillion. Brian asked us what determines the priorities in our lives – and a lot of us said happiness/passions and goals. We discussed hygiene and motivation factors for our future careers and whether or not we are doing something because of the compensation (hygiene factor) or the personal growth and challenge (motivation factor).
This helped me realize that I should be setting my future career and leadership goals with motivational factors in mind, not hygiene. I can receive all the money in the world, but if I do not love what I do, there is no purpose in investing my time in such an area. After the long but engaging day of training, we had dinner and toured some of the national monuments in DC! Considering this is my first time in DC, I enjoyed seeing all of the monuments in person. I was amazed of how large and beautiful each monument was and the stories behind them. We visited the Washington Monument, WWII Memorial, Reflection Pond, Vietnam Memorial, Korean War Memorial, and the Lincoln Memorial. Brian came along and shared some interesting facts about DC, and I enjoyed the bonding time we had as the American Red Cross/NAIA Class of 2016! We all crushed our step goals on the Fit Bits! Day 2 is complete, and I am eager to see how the next 2 weeks will unravel. I have already learned so much and will hold these experiences close.
Hannah Moody
Hastings College, Nebraska
Major/Minor:Psychology/Communications & Women's and Gender Studies
Sport:Volleyball
Blood Region:Midwest
Blog - Day 3 by Hannah Moody
Hello!
My name is Hannah Moody, a small-town girl attending school at Hastings College. It has been amazing spending time in Washington DC so far before the beginning of my junior year. I am a psychology major with a minor in communications and women and gender studies. I plan on attending graduate school and obtaining a masters degree in social work. I have participated on the Hastings College volleyball team for the past two years but unfortunately will be unable to participate during the next two because of injuries. However I will still be involved with the team and help out with some statistics! Today has been an eventful day for the American Red Cross/NAIA Class of 2016. We began our day with a recap of Day 1 and immediately got Day 2 going.
We discussed a leadership article titled "20 Things 20 Year Olds Don't Get" and talked about how that related to our current situations. We then continued our discussion of our book assigned earlier in the summer and talked about change and our time/investments. We had some great conversations and truly got to know each other on a deeper level today. The topic of change hit home for myself since change is something that I don't enjoy. I am comfortable in my routines and like to know what will happen next. But unfortunately that is not how life goes; and change is always occurring. The beautiful thing though is if you don't like what change brought—just change it again. There is nothing wrong with exploring new outcomes and options because who knows what will happen when you open a door you have never tried before. After a delicious lunch we were back in the conference room for our first guest speakers: Elisabeth Nisley, Edna Cruz and Ally Kelly. In this session we learned about our "True Colors".
We began our activity by answering a 5-minute questionnaire and tallying our points. Once we knew what color we were, we discussed what each color meant. The four categories are: blue, green, orange and gold. Blue was known as more of a caretaker who is passionate and optimistic. Greens are known for their problem solving and perfectionist tendencies. Orange brings the party while being spontaneous, energetic and imaginative. Golds are known as being prepared, planners, punctual and conservative. After learning which color we were and what that meant we talked about misconceptions of other's personalities and how to communicate effectively with each color. Our next speaker was fantastic. Little did I know, the next presenter would become one of the greatest role models I have ever met: Anna Marie Larsen. A spunky woman who is truly an inspiration, talked to us today about the importance of the authentic self, learning to be kind, loving towards yourself, and being inquisitive. All topics were important to learn about and practice in every day. She was an amazing speaker and an amazing woman. This paragraph certainly does not do her justice. After our speakers we began work on our final projects and diving into the data of blood drives…except for me. Today after work I took an eventful trip with our fabulous student mentor, Megan Mosiniak. After a very long Uber ride, where we met a lovely mother and daughter from California visiting colleges as we shared the car, we came to a Minute Clinic where it was discovered I have an ear infection. After getting a prescription sent, Megan and I hunted for another Uber.
This car was shared with a young man originally from Cambodia who had previously lived in the same village in India that our driver was from. Our driver had recently obtained her citizenship after marrying her husband (congrats!). Our final Uber of the night took us to China Town to meet the rest of the group. This driver, originally from Morocco had lived in Paris before moving to DC for the last 22 years! Uber is truly fantastic. After 3 long hours and 3 Ubers Megan and sat down in the Panera of China Town and ate (inhaled) dinner. This was possibly my favorite part of the day. Getting to spend one on one time with Megan and learn more about her life and history was truly a connecting moment. Meeting such incredible people, like Megan, on this trip has definitely been a highlight. After singing along with a street performer for a while we were able to walk and see Fords Theater and the Petersen House. After this last stop we had free time the rest of the night. A couple of us girls ran to TJ Max and Marshalls to pick up a few last minute items and eventually found our way back to the dorm after getting a bit lost. But the good news is we lived in the moment and asked a stranger for help instead of immediately using our phones! However we broke down and used our phones in the end. A little tip: don't take directions from tourists! All in all it was a long, eventful, and encouraging day here in DC. Now it's time for me to sign off and get ready for whatever Day 3 brings! 
Samantha Carr
St Ambrose University, Iowa
Major/Minor: Exercise Science
Sport:Tennis
Blood Region: Heart of America
Blog - Day 4 by Samantha Carr
Hello all!
My name is Samantha Carr, but all my friends call me Sammy. I attend St. Ambrose University in Davenport, Iowa where I play tennis and am studying exercise science. I am interested in fitness and nutrition. When I graduate from SAU I hope to go to grad school and become a nutritionist or a physical therapist. I have not yet decided on what career I want to get in to quite yet! The way I see it, I have so much time to go back and forth on what I want to be when I grow up and I can take my time. I just completed my second year of college, as well as my second season of tennis. I have been playing tennis since I was eight years old, I can easily say tennis is my biggest passion. I have learned so much from playing tennis. I have learned that being a team player is just as important as being a leader and demonstrating good sportsmanship can be incredibly powerful. These things are definitely beneficial on the court as well as off the court. I think it is so important to be a leader as well as a follower, this can happen at school, work, or in relationships with friends. I am so honored to be a part of the American Red Cross/NAIA Leadership program. Honestly, when I applied to be in this program I did not think I would get in at all. I thought to myself, "Hey wouldn't it be neat to be able to do this?" and went for it. When I got the call saying I was going to need to schedule my first round interview I was so proud of myself. I did all the research I could think of over the American Red Cross and rehearsed over and over. Then my interview came and it went much better then I thought it would. I was confident and it all felt natural to me, which is surprising because I would say I am typically a nervous person. My second round interview was even better because I already had experience from the first round. I was feeling confident, but a lot of time passed before getting any word back.
Then one day I was sitting down with my mom and a number I didn't recognize called my phone, my palms instantly began to sweat. I ran to my room for privacy, answered, and received the good news. I think I remember hearing myself say "thank you" close to a million times. I came out to the living room where my parents were and tried to act like nothing happened but the smile on my face failed to hide it. My mom said, "You got it, didn't you?" and I screamed, "I got it!" I can honestly say getting into this program was one of my biggest accomplishments and I'm so blessed for everyday I spend here. Today was our third day in the office! Leaving the office today, I can say confidently today was my favorite day yet. We had two speakers who both grabbed my attention and did not let go. Kathy Waldman was our Blood 101 speaker and Tim O'Malley held a workshop on the importance of diversity and culture. After looking at the schedule and seeing what Kathy Waldman was going to discuss, I was a little nervous about my ability to relate to the chemistry of blood. It turned out to be so fascinating! Ms. Waldman discussed all the important aspects that go into the science behind the blood donation process. The main thing I took from this discussion that I did not already know was that there are consequences that may occur when someone receives the wrong type of blood. I always knew the importance of blood types were serious, but I never knew the damage that could be caused from receiving the wrong one. Ms. Waldman answered all the questions I had going into the donating process and the different diseases that are tested when blood is donated. Her presentation gave us some much needed understanding about the science of blood and how it will affect our recruitment. In the afternoon, we had the opportunity to meet Tim O'Malley, who put on an excellent workshop for us.
Our workshop discussed the importance of diversity and cultural differences. Mr. O'Malley made it into such a fun experience, I was very surprised by the activities we did. Every game we played had a significant message to accompany it. For example, we played a card game in complete silence and every table had a different set of rules (unbeknown to us). The person who lost the game had to move down a table and the person who won went up a table and played a new game there. To the people who moved tables the game became confusing and frustrating. The message I took from this game was that throughout our lives we are going to come in contact with people who are raised differently and have different morals then us, but we have to learn to adjust and find a way of turning the situation into a win-win experience. If you thought our business day was busy, our evening put it to shame! We went to dinner at a restaurant called "Shake Shack". I was a little hesitant to eat there because I am a vegetarian and I was nervous they wouldn't have any options for me. Fortunately they had a 'Shroom Burger, a portobello mushroom instead of the meat patty, I ordered that with fries, as well as a coffee fair shake; it was delicious. I would highly recommend this place; I think everyone in our group would agree it was a very tasty meal. After dinner, some of us walked back in the direction of the dorm and happened upon the store Forever 21; we went in and did a little shopping. We must have spent too much time there because we finally got back to the dorm around 8:45 pm when we were supposed to meet at 8:30 (whoops!).
We had to rush back because there was a group waiting for us to go on a "monumental run". As a tennis player, I like to run as more of training during the off-season so I was a little hesitant running side-by-side with cross-country and track runners. It turned out to be a ton of fun I kept up with the group and had many laughs, I never imagined five miles being so much fun. Today was a great day for the group in the office and in DC. I am so thankful for having the opportunity to be here, I am so blessed. 
McKenna Barkus
Montana State University Northern
Major/Minor: Nursing and Health Promotions
Sport:Cross Country
Blood Region: Lewis & Clark
Blog - Day 5 by McKenna Burkus
Hello!
My name is McKenna Barkus and I am a junior at Montana State University Northern. I am studying nursing and health promotion with a pre-professional concentration. I plan to pursue a master's degree in nursing and someday become a nurse practitioner. I am also a member of the women's cross country team at Northern. Go Northern! I'm excited to have the opportunity to represent my school and the Frontier conference here in Washington, D.C. Day 4 started with most of us taking the day to sleep in since we were still tired from our monumental run last night. Our work day began with presentations from Hanna Malak, Megan Mosiniak, and Randon McNeil, our student mentors, on how to host effective blood drives on our campuses. They helped us think about creative ways to get students involved such as: incentives for donating, advertising on social media, and creating themed drives. Since all three of them were extremely successful in the program, they had great insight on ways to make our blood drive more efficient. Randon had us create an action planning list to keep track of our ideas throughout the presentations.
Next we discussed the book "How Will You Measure Your Life" and the author's take on culture. We each created our own definition of culture and discussed words that defined our personal culture within our family, work, and blood drives. We originally had the opportunity for three speakers to share their experiences with us today, but unfortunately Brian Boyle, a blood recipient and national spokesperson for the American Red Cross, was unable to come due to illness. Our first guest speaker of the day was John Taylor, Senior Vice President of Regional Operations for the American Red Cross. He shared with us many interesting facts and statistics about blood drives and donors. We learned that the largest donor group consists of high school/college students and then after students graduate they tend to donate less frequently. Cost-efficiency of blood drives was another aspect of discussion. His information gave us some additional tips on donor recruitment and making our drives successful. Our final part of the workday began with a short walk to the 17th street office where we had the opportunity to meet with the President/CEO of the American Red Cross, Gail McGovern. She began our discussion with some advice on how to choose a career that suits us. Mrs. McGovern then allowed us to have a Q&A session. She gave us very honest and personal answers that provided us valuable information about her leadership journey. One of my favorite pieces of advice she gave was an analogy regarding the career ladder. She told us to think about our careers as being a lattice instead of a ladder. It is more important to climb across and increase skills in other departments while building a strong network. Mrs. McGovern also shared insight on how to prioritize her family life while still being successful in her career. She is an excellent example on how to balance career and family. Although our time with Mrs. McGovern was short due to her very busy schedule, the hour we had with her was an inspiring opportunity for us. After our work at the office was finished for the day, we walked to Georgetown together to explore for the evening.
We all ate dinner together at an authentic Mexican restaurant. Following dinner, our group split up for a couple of hours. Some of us went to Sprinkles and ate delicious cupcakes, others decided to explore the many shops of Georgetown. On our way back to meeting the group, Brenda and I made a few wrong turns and couldn't find the rest of the group. Luckily, Megan answered our phone call and we made it back to the group quickly. When the group rejoined, we walked down to the pier to look at the beautiful Potomac River before we made our way back to campus to get some rest for tomorrow. Another incredible day in Washington, D.C. is finished and I look forward to the remainder of our time here. Thank you for taking the time to read our blog! P.S. Shout out to my amazing student mentors (Hanna, Megan, and Randon), Brian Hamil, and my classmates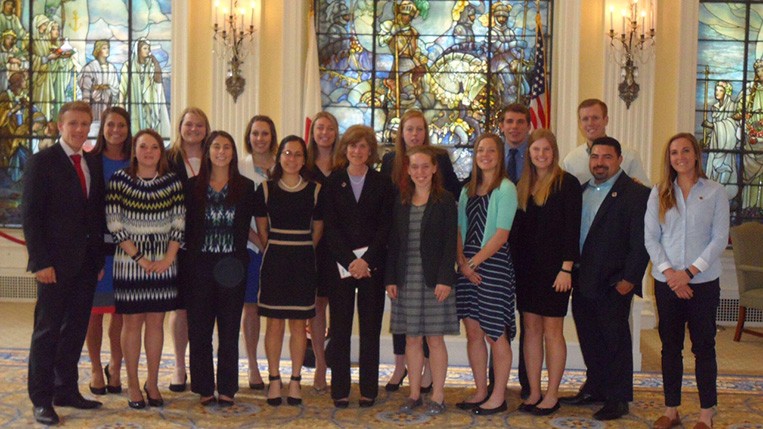 Brenda Feasby
University of Northern Ohio
Major/Minor: Sports Marketing and Management
Sport:Softball
Blood Region:Indiana-Ohio
Blog - Day 6 by Brenda Feasby
Hello, everyone and greetings from all of us here in Washington, D.C.!
If you've had the opportunity to read any of the past blogs, I'm sure you can see we are having a blast here! I cannot wait to share with you all what we experienced today, but before that I will tell you a little bit about myself. My name is Brenda Feasby and I grew up in a small town called Payne, Ohio. I now attend school at the University of Northwestern Ohio located in Lima, Ohio, where I am pursuing a degree in Sports Marketing and Management. Once I graduate from college, I plan on using my degree to pursue a job in public relations or advertising for a sports team; preferably baseball. While attending UNOH, I also get the tremendous pleasure of playing outfield for the Lady Racers softball team! When I am not in the classroom learning, out on the field playing ball, or helping out with the Red Cross. I also get to take part in being our schools mascot, Torque, and practicing my toe touches for athletic events. Now that you have gotten to know me a little bit more; let's dig in to what we got to learn today! Day five has been nothing short of incredible. Our day began in the Red Cross Headquarters where we had the chance to take part in phone calls with our designated DRD representative. DRD stands for Donor Recruitment Department and those representatives are the people helping us plan and schedule our blood drives at our schools.
My DRD is a wonderful lady named Ms. Marianne Hardesty and our conversation was extremely beneficial. Luckily for me, I have already had the tremendous pleasure of getting to meet Ms. Hardesty in person a few months ago when I helped out with my second blood drive at UNOH. Not only did we get to talk about the statistics of blood drives at my school, but we also got the chance to catch up and see how one another had been doing since the time we last spoke. The conversation we had ranged from talking about previous blood drives stats that we had hosted at schools, as well as some new ideas I plan on bringing back to my campus in the fall. The highlight of the conversation for me was when we discussed that upon my arrival back to Ohio from Washington, D.C., she would like to take not only myself and her, but also Ms. Alexandra Cole, District Manager for the Red Cross in the Indiana-Ohio region, to the main offices of the Red Cross for our region located in Ft. Wayne Indiana. There, they will be able to show me some of the behind-the-scenes of blood drive operations and also which dates would be the most effective in comparison to our statistics to host a blood drive. Overall, we all had pleasant and productive phone calls with our DRD's from home. I cannot wait to meet with Ms. Hardesty and Ms. Cole when I get back to Ohio to share with them all the fun and innovative ideas I have to implement back on campus to help our blood drives be a success! Once everyone finished their phone calls, we met with our first presenter for the day, Ms. Patricia Brunker. We learned that not only does Ms. Brunker have an extensive background and knowledge in regards to the field of transfusion medicine for the Red Cross, but she also has a great Scottish accent! Ms. Brunker does a lot for the Red Cross especially in regards to studying and performing tremendous amounts of research on several different components of blood, such as: what it contains, the requirements of a typical blood patient, young donors, and donation for athletes. During her presentation, she was able to touch base on all these subjects and provide us with numerous pieces of information. The cool part about Ms. Brunker's presentation was that before we got started she actually shared with us that she was currently on call and might have to stop briefly to take a call. Sure enough, about twenty-five minutes into her presentation she was called in regards to a blood unit situation.
Once she finished her call, she shared with us the details of the case and showed us how she handles situations like that on a daily basis. By doing that, she made it much more personal and we were able to listen and interpret exactly what goes on behind the scenes. It is pretty cool to think that she deals with situations like this all the time; I thought it was really neat that she got to share her true authentic self with us during our time together. Once we finished speaking with her our next guest speaker entered the room and his name was Mr. Nathan Groce. Mr. Groce is in presented to us about making the jump from the "Classroom to the Boardroom". While talking with us he shared some insight on a few key topics and also stressed the importance of developing not only good job skills, but broadening our intellectual skills when searching and applying for a job. He touched base with us on how important it is to perfect our resume basics such as outline and content when going into a place of employment. Also, when looking for a job it is important to keep a checklist handy when searching. For example, one needs to know themselves and where it is exactly that they see themselves wanting to work. Second, is to properly prepare for the interview or even looking at various social media outlets and cleaning up your own content as a means to keep employers from finding anything suspicious. Mr. Groce gave us a lot of beneficial tips and advice that we will all be able to contribute and apply when looking for jobs in the future. Finally, the last speaker we met with today was Ms. Amy Daly. Ms. Daly is the Client Relations Program Director at the American Red Cross whose primary focus is helping advertise and propose more youth programs around the nation.
She spoke with us about some valuable advice on not only these awesome programs, but also tips on how to start Red Cross clubs on our campuses. The information she provided us consisted of how to submit and register our Red Cross club registration forms and also the appropriate number of people to have in our clubs. I cannot wait to incorporate the tips she gave us upon arrival back to Lima. I'm sure they will have an awesome impact on all the students! Once we finished hearing from Ms. Daly, we did our debriefing on the day. During this time, we took a few minutes to think of a word that describes our current state thus far into the program here. Everyone then stood up in front of the room and explained the word they chose; then we all took turns taping them up on the poster board. The word I chose that I believed best fit me in my current sate was "prepared." I chose this word because I believe that this far into the program I have learned many helpful tips and tricks that I feel as though I now know more about this organization and fun creative ways to implement my ideas on campus; therefore, being prepared is something I feel more confident about. Being prepared is something that gives me reassurance and energy to get started at UNOH. Once we completed our debriefing, we had the rest of the night to go and venture off on our own. We all decided to make our way over to one of the Smithsonian museums and decided on the Air and Space museum. We got the chance to see a lot of historic artifacts such as Amelia Earhart's flying equipment that she had with her on her many aviary missions; as well as the original propeller that the Wright Brothers used in their first airplane model. After we made our way through the entire museum we all split up. Half of us decided to take an Uber back to the dorms where we then walked a few blocks to get some pizza at a place called Custom Fuel.
The other group decided to get food from a really good barbecue restaurant before venturing back to the dorms. So far, my time here in D.C. has been incredible. It has been great hearing from not only all the speakers, but my peers as well. I have loved the opportunity of getting to talk and know more about them and their families as well as their dreams and future career goals. I cannot wait to see what the next and final week of this outstanding program has in store for us. I'm sure whatever it is will only continue to grow in excitement and improve our leadership skills even more. Thanks for reading!
Reise Wyatt
Olivet Nazarene University, Illinois
Major/Minor: Child Development/Psychology
Sport:Track and Field
Blood Region: Heart of America
Blog - Day 7 by Reise Wyatt
Shalom all!
My name is Reise Wyatt and I attend Olivet Nazarene University in Bourbonnais, Illinois which is one hour south of Chicago. I study Child Development with a minor in Psychology. I am also a thrower on the Women's Track and Field Team. The first week of our training has been exhilarating! I have made so many memories with my new friends and we officially made it through our first week together!! To start off our fun filled Saturday, we all rode the metro to Union Station and for some in the group it was their first time getting to experience the metro. When we arrived at Union Station we met a lovely woman named, Jennifer Lourie. Jennifer is a good friend of the program, past employee of the American Red Cross and a proud supporter of the American Red Cross/NAIA Collegiate Leadership Program. Jennifer handed out pieces of paper with rich history and fun facts for all of us to read at different monumental sights we stopped by. This was interesting because each person got to momentarily be their own unique tour guide! We started off with the history of Washington, D.C. and how it was actually a swamp and was chosen by George Washington. We then talked about Pierre L'Enfant, the man who designed the city and is now buried on the hill at Arlington National Cemetery so he can overlook his city. While at Union Station we also talked about the layout of D.C. and how everything was specifically placed and facing a certain way which involve other monuments. It is super cool to think that all the monuments are essentially connected in some sort of way. An interesting fact about Union Station is that it contains 70 pounds of real gold in its architecture, but I will let you discover where it is on your own.
I cannot give all the facts and secretes away! We moved out in front of Union Station to find a statue of Christopher Columbus. Union Station is remembered as the "gateway to the city" and at the time, train was the most efficient way of travel so who better to place in front than the man that the city is named after. Alongside the statue of Columbus there is a young Native American man on the west side and an old man on the east to represent that the old world was in the east and the new world in the west. We marched on to the Supreme Court where lady liberty is placed in the middle of two men representing order and authority on top of the building. From here we can see the top of the Capitol building and there stands the statue of "Armed Freedom". The statue is purposely facing the east because the sun sets in the west and the sun cannot set on freedom. She is called "Armed Freedom" because you have to fight for freedom and freedom is not free! The Library of Congress is where we ventured to next and this was probably my favorite part of the day! I enjoyed the Library of Congress because I think it is one of the most beautiful buildings in Washington, D.C. inside and out. The library also holds Thomas Jefferson's 6,487 books from his library. Before we got to take time exploring the United States Botanic Garden, we discussed the nineteen Smithsonian museums spread throughout D.C. which hold 137 million items in its collection. These all started with a man named James Smithson and were given to the United States of America but no one knows what motivated to create these establishments for free. Ulysses S. Grant Memorial is where I got to try out my skill as a tour guide and also found out that I should not go down that career path. Here we learned that the sculptor turned out to be Ulysses S. Grant's physician's son and it took him twenty years to build it.
The tour came to a break as we stopped to eat lunch at the National Gallery of Art and then browsed the pieces of art. That afternoon we headed toward the Holocaust Museum. When we came to the beginning of the tour we selected a small booklet with the name and information about a person who experienced the devastation and hardship of this time. I picked a booklet with the information from a woman by the name of, Rena Gani, who was a Romaniot Jew. The book has specific pages for visitors to read as they finish each floor of the museum. The tour starts on the fourth floor and tells a little about the history before Hitler was in power and how the madness started after he was in power. As you go down each floor it goes through the accumulation and decline of these terrible events.
Each floor is very dim and silent as people walk through and observe artifacts, videos, pictures, and descriptions of the Holocaust. At the end of the walk I know that things were solved, but my heart still sinks thinking about the unbearable and dehumanizing events that took place. This part of the day sounds depressing and it was, but that is the importance people need to understand and for history not to repeat itself. During the evening some students decided to check out the Natural History Museum while the other students decided to head back and work on e-mails, projects and have down time in the dorms. 
Lauren Van Horn
Biola University, California
Major/Minor:Accounting
Sport:Golf
Blood Region:Southern California
Blog - Day 8 by Lauren Van Horn
Hi there!
My name is Lauren Van Horn and I am a junior at Biola University in Southern California. I am on the women's golf team for Biola and have really enjoyed going to school and playing golf in sunny California since I am originally from the Chicago suburbs. I am majoring in Accounting with the hope of going into public accounting or accounting for non-profits. I am so honored to be a part of the American Red Cross/NAIA Collegiate Leadership Program! This entire first week has been an amazing experience and today was a great day to wrap up the week. After a late night at the gym trying to get all our steps in for our Fitbit challenge, we decided to let ourselves sleep in a little bit to recharge before we headed out to our main event of the day: visiting the Arlington National Cemetery. It was well over 90 degrees and very humid outside, but we ventured out and took the Metro to Arlington.
I was filled with awe at the sight of over 400,000 soldiers' graves. I am so thankful for the service of our soldiers, putting their lives on the line for our freedom. While we were there, we also got to see the Changing of the Guards Ceremony. This took place at the Tomb of the Unknown Soldier, which represents all of the soldiers that have died in service who are not identified. The guards keep watch over the Tomb of the Unknown Soldier 24/7, rain or shine, no matter what. Each movement of the guard was so precise. They take exactly 21 steps in each direction patrolling the Tomb and were out there in full uniform under the beating sun. Then, we checked out the museum that was near the Tomb of the Unknown Soldier and learned a lot about the history and significance of the Tomb. We also got to see the Exchanging of the Wreath Ceremony. Some elementary school students representing their school had the honor of exchanging the wreath in this ceremony. After the ceremony, we walked up to General Robert E. Lee's House, which overlooked Arlington Cemetery. It was so cool to walk around his house because it was preserved well throughout history. We grabbed some Subway on our way back from Arlington and went to the dorms to freshen up before heading out to dinner at Bertucci's, a delicious Italian restaurant nearby. Two NAIA representatives, Kristen Gillette and Amber Crosby, were hosting the dinner since we are going to be working with them on Monday and Tuesday the following week. We had a lot of good food, but even better conversation. It was nice to go out and enjoy each other's company and welcome the NAIA representatives into our group. After we got back, we thought it was going to be like any other ordinary night here. We were quite wrong! We had no idea what we were getting ourselves into when we decided to all hang out and play the card game Spoons in one of our rooms, which we never actually got around to doing.
Jen and Nate had continued their Speed Game (another intense card game) tournament while we were all hanging out and then Nate showed us some of his card tricks and impressive juggling skills. Through these moments we somehow got the idea that we should play some softball in our dorm room! We divided up into teams, moved all the furniture around, determined bases, got a sandal as a bat and a sock ball for our ball, and started playing! It may have been the most fun I have had all week! We had a lot of great hits, even one homerun, but it was the spontaneity of it that I will always remember. After we settled down from the game, we were listening to some of Pablo's Spanish music, which has become quite popular among our group, and convinced him to give us some salsa dancing lessons. We tried our best, but no one can compete with Pablo's dancing! After our little dance lesson, the night turned to the fitness side as Reise, who is a thrower on the track and field team from Olivet Nazarene University. She taught us how to throw shot-put. The fitness test did not end there as we experimented with who could do handstand push-ups against the wall. The final event of our night was an ab competition where we competed to see who could hold a plank the longest!
We all made it past two minutes, but only Nate, Helen, and Pablo made it past five minutes but they did not stop there as they reached seven minutes. After the seven minute mark, it was just Helen and Pablo battling it out! Most of us girls were cheering for Helen, but they both were going strong after a whopping nine minutes! Helen came out with the win after an impressive 10 minute plank, which beat her previous personal best by four whole minutes. It was a great way to end the night celebrating together and making memories that will stay with us for a long time. Even though it is only the end of week one, I know I will miss being a part of this tight-knit group once our time here is over, but I am going to make the most of the week ahead and am looking forward to what week two has in store for us! Thanks for reading! 
Nathan Lane
Grace College, Indiana
Major/Minor:Mechanical Engineering Management and Applied Physics
Sport:Cross Country and Track
Blood Region:Indiana-Ohio
Blog - Day 9 by Nathan Lane
Greetings everyone!
My name is Nathan Lane and I am a participant of the American Red Cross/NAIA Collegiate Leadership Program. I am currently residing in Winona Lake, Indiana where I attend Grace College and run both cross country and track and field. I have always enjoyed running just like my older brothers who each ran at the collegiate level. Currently, I major in both mechanical engineering management and applied physics. I have a curious mind and love solving problems along with working with people, hence the management degree. After a busy jammed pack week of visiting different monuments here in D.C. and exploring Arlington Cemetery, we are back to in the headquarters to hear from an absolute great speaker, Kristin Gillette from the NAIA. Kristin Gillette came to represent the National Association of Intercollegiate Athletics (NAIA) and share with us the meaning behind being a student athlete and representing the Red Cross and the NAIA. Kristin is the Director of Champions of Character and showed us the importance of being a student athlete at an NAIA institution. Her presentation revolved around several main topics including: the history behind the NAIA, the five core values, and ways of improving the NAIA.
The history of the NAIA included when it was first started and showed what colleges are currently active members. The main topic of the whole presentation was around the five core values. These are integrity, respect, responsibility, sportsmanship, and servant leadership. After discussing these values, we shared personal testimonies of how our teams exemplify these values. One such example I shared was how our coach encourages us to meet fellow competitors in our events and get to know them. This builds a friendship with those we are competing against and can better display sportsmanship both on and off the track. The final part of the day consisted of us voicing our opinions of the NAIA and sharing specific problems we have had with the NAIA.
After fully discussing this, we began an activity where each group had to create a platform for the NAIA where they could potentially fix these problems and prevent them from further happening. After spending most of the morning and the early afternoon in the office, many went to do their daily workout in the gym. After everyone completed their workouts, almost everyone went to Hill Country Barbecue to eat some great food and enjoy each other's company. Over the past eight days I have grown as a leader in many aspects. From how I greet someone to planning a large blood drive. I think my leadership style is constantly evolving day-by-day and slowly shaping into something great. It is such a privilege to be here and represent the American Red Cross. This program is far more impactful than I could have possible imagined and I know these friendships will last a life time.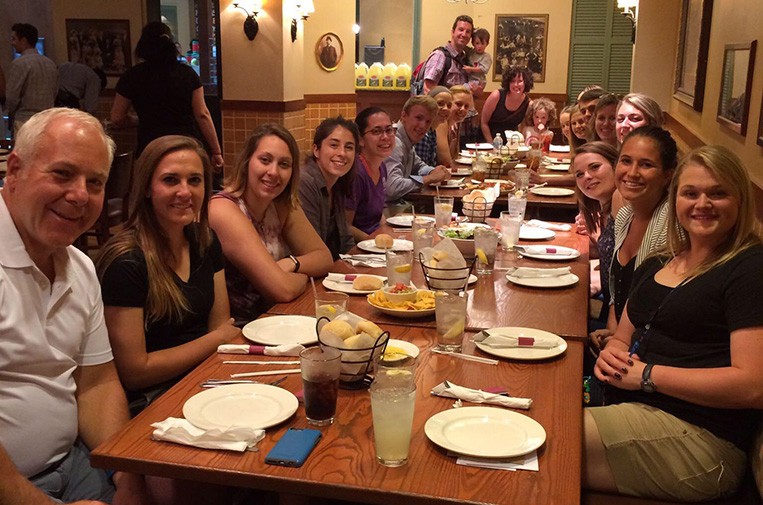 Bailei Brown
John Brown University, Arkansas
Major/Minor: Nursing
Sport:Volleyball
Blood Region:Greater Ozarks
Blog - Day 10 by Bailei Brown
Hello everyone!
My name is Bailei Brown and I am a junior at John Brown University in Siloam Springs, Arkansas. I am a born and bred Arkansas girl. Go Razorbacks! I am studying nursing and plan to pursue my graduate degree as a nurse practitioner or nurse anesthetist once I obtain my BSN. I am also a member of the women's volleyball team at John Brown. I began playing volleyball when I was twelve years old and have been completely in love with the sport ever since. I have completed two seasons with my wonderful team and am incredibly excited for the two seasons I have left with them. I am thrilled to have the chance to be here in Washington, D.C. representing my school and the Sooner Athletic Conference. It is a rare opportunity and a true honor. If you have had the chance to read any of the past eight blogs, then you will clearly see that we are having an absolute blast here! After a group dinner at Hill Country Barbeque and bonding time together in the dorms the night before, we are back in the office raring and ready to go for day 10 of the American Red Cross/ NAIA Leadership Conference. We began our second Tuesday in D.C. by diving into our articles, The 10 Most Important Steps to Becoming a Master Networker and Seven Habits of Likable People, with Brian. These articles were both full of great advice. They contained words that remind me why relationships are such an important part of our work experience, and without those relationships we are limiting our ability to communicate and succeed within our work environment. In one of the first paragraphs of our networking article, Lewis Howes says, "…networking is not handing out business cards at happy hours. It is the genuine connections you can make every day with a wide variety of people …" Which I believe to be very true and have come to understand to a much greater extent during my time in this program. With all the advice that I have been given and the knowledge that I have gained, it has been an absolutely eye opening experience here and I have loved every minute of it. Once we were finished with our discussion, we continued our morning with NAIA partner and representative, Amber Crosby. Amber is the new Director of Development for the NAIA.
The first part of her presentation consisted of identifying who the NAIA was, what the NAIA does, and how sponsorship with the NAIA can benefit the sponsor. She went through this example to show us what a majority of her job with the NAIA looks like and how she grabs the attention of the NAIA's potential sponsors. Fundraising strategies for a nonprofit organization as large as the NAIA was completely foreign to me, so to have the opportunity listen to Amber discuss this with us was great! The next thing she spoke with us about were the volunteer opportunities with the NAIA and how we can show our Champion of Character core values in our schools. There are an innumerable amount of opportunities it turns out. We could hold "Coach it right!" clinics, parent character training, Teaming up for Character, and a Character Awards luncheon for students who have shown exemplary character on and off the courts. One incredibly important value that the NAIA believes in is having a culture of philanthropy. They strive to be an organization that creates an environment of giving, whether that is through camps and sports or through character building opportunities within schools. Part of our morning was spent working on an exercise for Amber where we developed ideas and opportunities to reach out to others about the mission of the NAIA and Red Cross and how being involved in these organizations can provide so many growing and giving opportunities. Once we were back from our lunches, we were finally given the opportunity to give blood! We had been talking all about blood, about how to host a blood drive, how to reach others for our blood drives, and now it was finally our turn to give blood! We had been given our appointment times a few days before, so once lunch was over, we reported back to headquarters for our blood donating opportunity. My appointment was at 1:00 pm. It was a smooth process for me! It began by being called into a health history room so that they could get my contact information, medical history, and test my hemoglobin levels to make sure that I was eligible to donate. Once that finished, I was taken back to the donating room, given a bottle of water, and given a big comfy chair to sit in while I was donating.
I was then prepped for the donation. They did this by gathering the necessary equipment, cleaning the area where my vein was located, and then beginning my blood donation. The phlebotomist who assisted me was a very friendly and reassuring face as he prepped me for donating. My donation was finished within ten minutes and I was then patched up and sent over to the canteen to grab a snack and a drink (the best part of donating blood, after the fact that I get to save up to 3 lives!) Once we were done with our donation, we could head back to the office to continue to work on our strategic plans for our blood drives. I chose to stick around the blood drive area to encourage and provide support for some of our first time blood donors. It was awesome to be able to see the happiness that they had as a result of being able to aid in saving lives. For every donation that you give, you can potentially save three lives! In my opinion I think that's such an awesome opportunity! A process that takes about an hour of your time that allows you to help someone else in such a large way is worth every part of your forty minutes for sure. For our evening activities, we participated in a scavenger hunt planned by our mentors and leader of the program! They had split us into two teams before work and then we were given the task of coming up with a team name, a team cheer, a team logo, and nicknames for each team member by 7:30 that evening. So, everyone left work to grab quick dinners and plan with their teams! We reported to the front of the American Red Cross headquarters at 7:30 that evening ready to show off our cheering and nicknaming skills! Just in case you were wondering, they were all hilarious and fun to watch. Then as soon as that was over we set off on our adventures!
Our team, The Red Cell Chile Peppers (Clever, right?) were given directions that asked us to first go to the Lincoln Monument and to take a "thinking pose" picture with our group and then do a two-minute video with one of our members being a tour guide. The video had to involve five people that we didn't know, so we snagged a group of 6 girls to participate in our tour of the Lincoln monument with our wonderful tour guide, Brenda. Once we had completed that task, we moved onto the World War II monument where we had to take pictures with our states. We ran to the Washington monument to take a video with a park ranger and make a pyramid with a stranger on top (Shout out to our little Pyramid topper, Hayden, for doing such a great job!) We got our creativity points for the hunt by throwing one of our group members into a softball game at the monument. Then we made a cross in front of the American Red Cross building and took a picture in front of the White House. Afterwards we quickly made our way over to Captain Cookie, which is a delicious cookie-sandwich shop, to finish the hunt! Unfortunately the other group won in the speed section of the hunt by beating us to Captain Cookie, but our group won the creativity section of the hunt! We finished off a fun evening with 7-11 slushies and enjoying each other's company back at the dorms hanging out and relaxing. It was a long, eventful day, but I wouldn't want it any other way! This experience has been one hundred percent amazing and I cannot wait to see what the rest of our time here holds! 
Mackenzie Burnworth
University of St. Francis, Indiana
Major/Minor: Risk Management and Insurance
Sport:Soccer
Blood Region:Indiana-Ohio
Blog - Day 11 by Mackenzie Burnworth
Hello all!
My name is Mackenzie Burnworth and I grew up in good ol' Westfield, Indiana. I attend the University of Saint Francis in Fort Wayne, Indiana where I am pursuing a degree in Risk Management and Insurance. Once I graduate from college, I plan to head west to Denver and work in the growing insurance industry as an insurance agent. As we all know or have learned, plans seem to always change, so I am trying to stay open to all potential options. If I am somewhere doing something I love, I know I will be a happy camper! While studying at the University of Saint Francis, I have the pleasure of playing on the USF Women's soccer team. Go Cougars! When I am not in the classroom learning, I am out on the field playing soccer, working in the school library, serving on the student government association, helping out with the Red Cross, or you can find me in bed sleeping. You may have noticed I am quite the busy bee, but I absolutely love everything I am able to take part in, and I would not change it for anything—especially the past two weeks in D.C.! The past two weeks have gone by so quickly. I feel like we just arrived in D.C., yet I feel like I have known everyone here for years. This being the 10 year anniversary of the American Red Cross/NAIA Collegiate Leadership Program, we started the day with a 45 minute thank you video for Brian Hamil, the head of the program. It was amazing to see the impact Brian has made on dozens of athletes around the country prior to us arriving in D.C.. It is exciting to be one of the individuals joining this group of impacted alumni. I am so grateful I was given the opportunity to be a part of this program, and I will forever cherish my time spent here in D.C.. Key learning points from the past two weeks have been to always be your authentic self and to lead by example. My favorite part about gaining this knowledge is being able to see it in practice every single day by Brian. He is very humbling, caring, and gracious. He is always in good spirits and he is a leader I aspire to be. So thank you so much Brian, from all of us!! After watching the thank you video, we had the opportunity to get to know Marvin Steele and the impact he has on the American Red Cross through his job as a lobbyist of the Government Relations department. We also got to meet Chris Hrouda, who "didn't tell" us to let his boss, Shaun, know he is better than him. Chris is the Executive Vice President of Biomedical Services at the American Red Cross. He has worked for the American Red Cross for nearly 30 years. He worked in all sorts of different positions, working his way to the top.
Chris spoke with us about our future careers and gave us career advice. Something that will always stick with me that he spoke about was to never turn down an opportunity because it is unfamiliar, or you are scared. He took many jobs he knew nearly nothing about, but he learned, adapted, and was successful because he was not timid in taking risks and learning new things. It's sad to see our last week here dwindling down, but we have been having a blast together. We ended the workday a little early and headed to the Nationals vs. Cubs game! We found out we were going to the baseball game on our first day at headquarters—I had been looking forward to it every day since! It was my first MLB game and I am a huge Cubs fan. Unfortunately, they fell short of a win, but it was a great game to say the least. Before the game started, Reise got a picture with Ben Zobrist and got his autograph! We later found out she goes to the same college he attended. We were so jealous! The game started off with lots of excitement; the first pitch of the game Ben Zobrist hit a home run! The excitement didn't stop there as the game continued into 12 innings!
We may not have had front row seats, but that did not diminish from the fun! All sixteen of us got to sit together, even though no one wants to sit next to National's fans such as Hanna. (Booooo!) I'm just kidding! Nonetheless, it was quite the experience and we shared lots of laughs and memories I will forever cherish. After the game, we rode the crowded Metro, then as we were walking back to the dorms we decided to stop by Captain Cookie and treat ourselves to some delicious ice cream. Once we got back to the dorm it was nearly 10 o'clock and just about everyone was exhausted. A few people stayed up to play card games and work on our PowerPoint presentations. I, however, passed out as soon as my head hit the pillow. 
Pablo Ripodas Laquidain
Lawrence Technological University, Michigan
Major/Minor: Mechanical Engineering
Sport:Soccer
Blood Region:Southeastern Michigan
Blog - Day 12 by Pablo Ripodas Laquidain
Hello!
My name is Pablo Ripodas Laquidain! I am a sophomore at Lawrence Tech University in Southfield, Michigan. However, I am originally from Spain! One of my goals was to be able to keep playing soccer, while continuing with my studies. Lawrence Tech was the perfect opportunity for me to do so. I am pursuing a major in Mechanical Engineering with an Entrepreneurial Certificate. I love being involved on campus as I am a part of several organizations. In the future, I would love to run my own company in Spain, probably with something related with renewable energy. Well it's already Thursday! It is crazy how fast time has flown by. It feels like it was yesterday when we arrived in D.C. Today was a really exciting day. We started by meeting at 9am as usual, but we were not going to the Red Cross Headquarters. We took the Metro towards Capitol Hill. We were all very excited to visit and we received an outstanding tour in which we were able to learn a lot about the history of American government and how politics work on a day to day basis. For me, it was a pleasure to be able to experience this tour around Capitol Hill and see the differences in government between the US and Spain. The tour was just the start of the fun, for the best was still to come.
We met with Sabrina Rush, a great supporter of the Red Cross/NAIA program who works for Johnny Isakson (Senator for Georgia), and she took us around Capitol Hill. We were able to sit in the Senate Chamber for a while where the actual Senate meetings are held. Also, we were able to visit the offices of some of the senators. It was an absolute blast to be able to walk around the offices and visit some of the offices of our hometown state senators…unfortunately; I could not meet any senators from Spain! I went with Brenda, Nathan, and our mentor Megan who are all from Ohio and we visited the office of Rob Portman. However, this wasn't the most exciting part of the day! While walking towards the offices, we walked by Ted Cruz! It was incredible to walk by such an important politician in the USA. We just couldn't believe we were there in the first place! Once we were done with the visit, we headed back to the Red Cross headquarters to get some work done with emails and the presentations! Tomorrow is a big day, we get to present our strategic plans and leadership code of conduct to our peers and mentors. It is our time to show how much we have learned in this past two weeks. 
Jennifer Johnson
College of Coastal Georgia
Major/Minor: Psychology/Business
Sport:Volleyball
Blood Region:Southern
Blog - Day 13 by Jennifer Johnson
My name is Jennifer Johnson and I was lucky enough to be a part of the American Red Cross/NAIA Class of 2016. This experience cannot be summed up in the means of one paragraph, but I will attempt to discuss a couple of my favorite moments. We were given the opportunity to explore our nation's incredible Capitol, while meeting the most highly respected individuals within the American Red Cross. The day that impacted me the most during my time here was exploring the Senate and spending the day with our group at the Capitol. We were honored to have exceedingly knowledgeable people guide us in our journey to take in the magnitude of operations that occur within the building. I could not be more honored to be a part of the American Red Cross family, and I am looking forward to serving with them in the coming years!